Winter Hours for January 2020
Gallery Hours:  
Friday & Saturday 11am to 7pm
By Appointment:
Tuesday to Saturday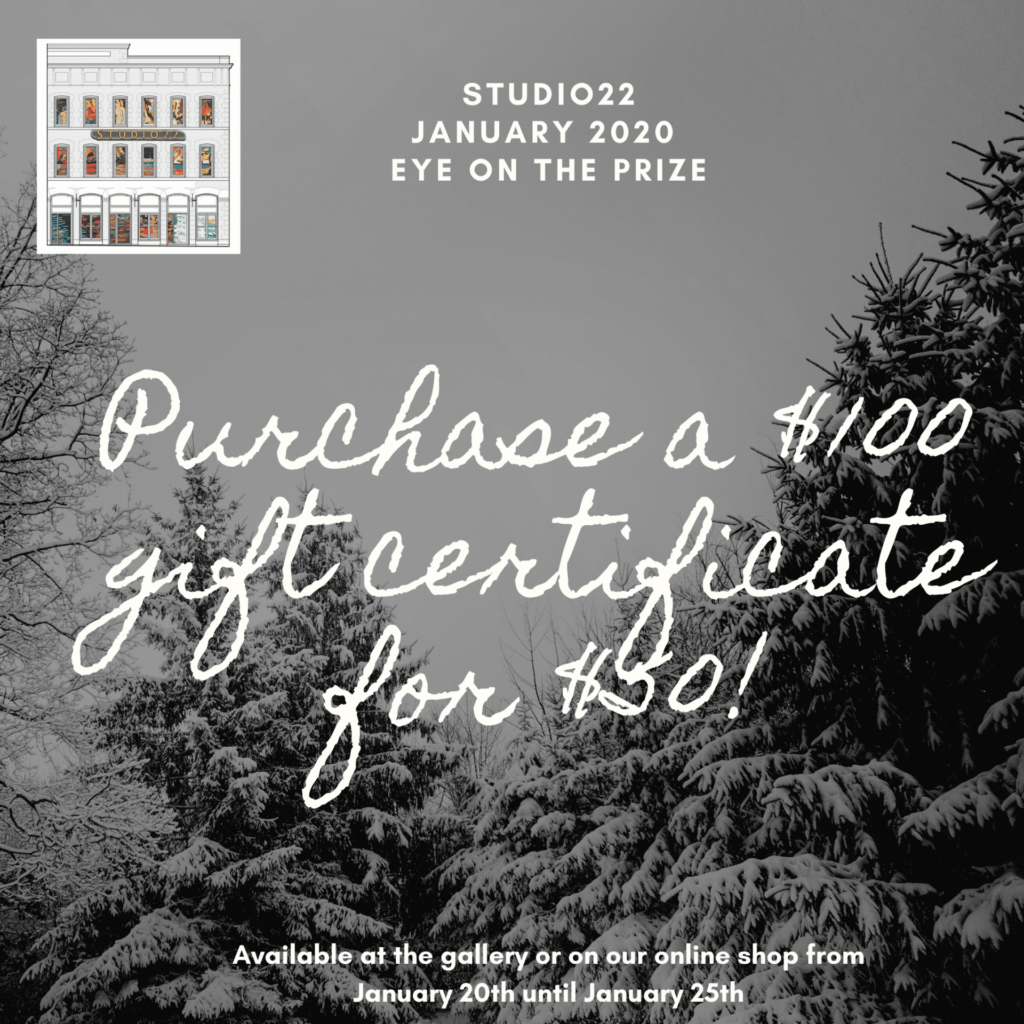 Throughout 2020 on the 20th of each month Studio22 will be announcing special monthly giveaways. These will be available for a very limited time each month so be sure to follow us and keep your eye on the prize!
Ending the decade and kicking off 2020 in a BIG way! Have you spent the better part of 2019 staring at blank walls? Have you dreamed of finding a perfect one-of-a-kind signature piece for your home or office? 2019 has been a great year for Studio22.  We have had 8 successful solo shows as well as acquired a number of fabulous new artists. It is our desire to...
Flesh and Bone is a show of two separate, yet complimentary, bodies of work by two unique artists that viewed side by side reminds us of our own mortality and suggests that perhaps beauty is not only skin deep.
A Kingston native, Bernard Clark has been exhibiting his fine art images for over 25 years. His photographic works often revolve around the theme of icons; whether portraiture or cityscsape, his subjects are elevated to a status evoking veneration.
Stefan Duerst is a sculptor working predominantly in fabricated and forged steel, designed for domestic and outdoor installation. His pieces are abstract, exploring archaic forms, space/non-space relations, and the use of colour. Originally from Germany, Duerst has devoted his idyllic piece of the Canadian shield to a sculpture park, located in in Godfrey, Ontario.
Debra Krakow is a artist and architect whose luminous abstract paintings in acrylic and mixed-media evoke the light-infused landscape of the Thousand Islands region of Ontario, particularly the views from her idyllic home studio on Wolfe Island, and the less knowable, multi-layered landscapes of the mind.
Originally from the Kingston region, Susan Oomen now lives and works in the aptly named hamlet of Utopia, Ontario. An avid paddler, as well as painter, Oomen creates iconic works to capture the Canadian spirit of being out on the water in summer or looking out windows onto snow covered landscapes in winter. Her canvases immortalize the play of light on water and the serene tranquility of a winter's day, creating an escape from the everyday.
What are we really seeing when we look at another person? This is one variant of a question that two new shows at Studio 22 seem to be asking.
What I experience when I look at Evelyn Rapin's paintings isn't quite thought or thinking. No. Rapin's paintings compel associations that skip like a stone across the pond of memory and insist on a response.
Today Capolongo is perhaps best known for his classic still-life paintings featuring elegant oriental pottery, but recently he has also been painting landscapes in oils and acrylics. His patient approach to creating both still lifes and landscapes is a virtue that viewers can observe and savor.
THE HOUSE THE SPIRIT BUILDS: Coinciding with the Kingston WritersFest happening Sept. 25 to 29, Studio 22 is exhibiting a work that blends the visual and the literary arts. THE CONCERT SERIES: Rapin's The Concert Series was inspired by a concert she attended at The Isabel Bader Centre while sitting in the front row in 2017.