Rapin's work highlights the harmonious intersection of two art forms and encourages the viewer to explore and celebrate the aesthetics and powerful psychology of music.
The House the Spirit Builds reminds us that joy and inspiration can be found in the smallest of things and that it is in our quest for a sense of belonging that we are united. The poems and photographs seen together are an invitation to expand our sense of wonder and our sense that all things are connected.
The title Tavvauna (Here it is translated from Inuktut into English) suggests the immediacy of the images and the connection between artist and subject. Each of the 4 artists has a different approach to drawing, but all of them share a sense of contentment and wonder in their relationship with their subjects.
Persistent explores women living their lives, pushing past adversity and trying times to achieve their goals during an era when women were seen first as their gender, and second as people.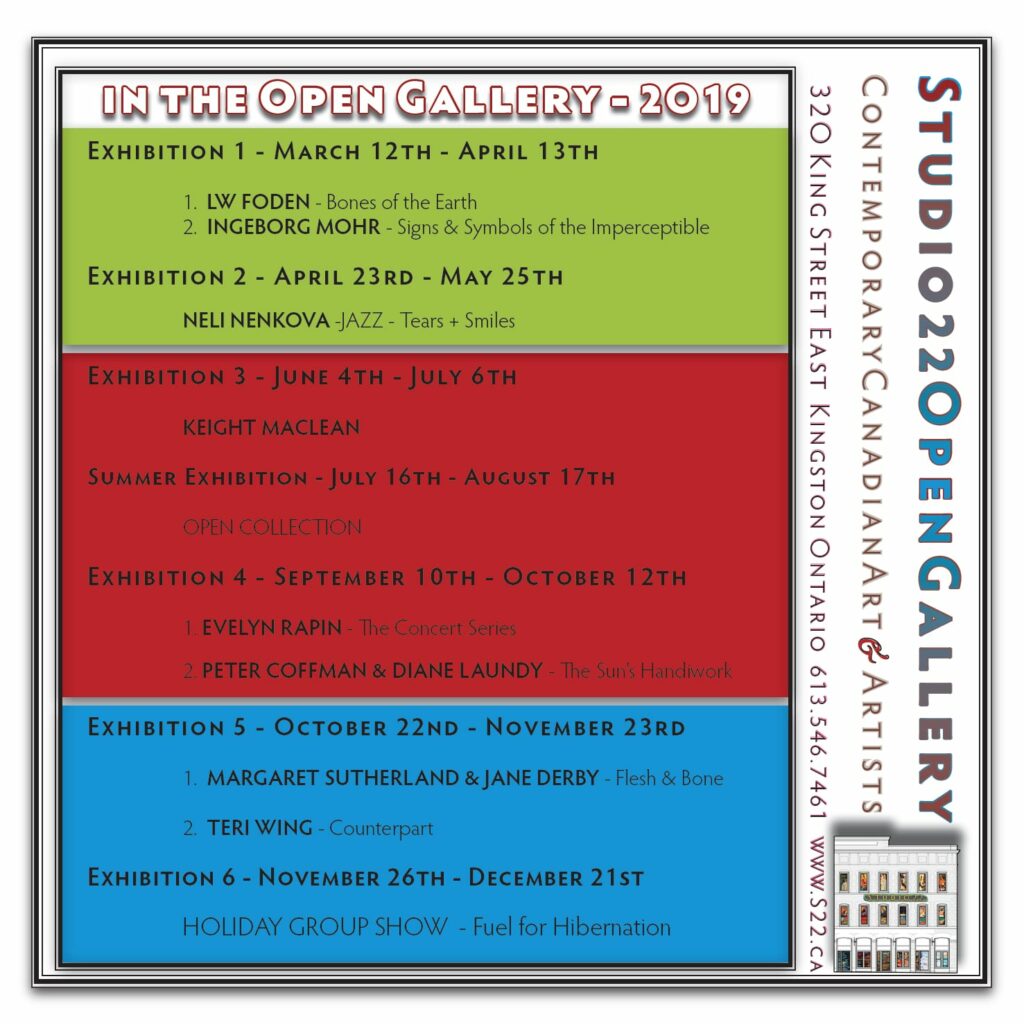 Kinston based painter JT Winik seeks to capture the fine balance that binds opposites. A keen observer, her paintings merge beauty and awkwardness, freedom and control, fragility and strength, often evoking a strong emotional sense of discomfort in their portrayal of beauty. Highly regarded, her paintings are shown in Canada and Europe, and featured in magazines, books and book covers, internationally.
I believe my interest in people started at a very young age, when I was told to sit still and quiet, which was usually at church or a waiting room. I would be handed a pen and old grocery list or envelope from Mums bag, I would draw other people also waiting.
Keight MacLean is a Toronto based painter, originally from the Kingston region, an alumna of OCAD University and the school's prestigious Florence Program. Intrigued by our connection to the distant past and the historical treatment of women, MacLean's work combines elements of Baroque and Renaissance painting with modern and experimental techniques.
Longtime Kingston resident, Margaret Hughes creates stunningly beautiful pastels, generally still lives, which often feature her own ceramic pieces, thus bridging the gap to the other artform to which she has devoted more than 50 years.
What does it mean to have a strong personalized vision in the face of decades of stylistic traditions and particular expectations about cultural art production?
There are some artworks that grab you immediately when you first encounter them. There's sometimes no rhyme or reason to it, and it might be something that is completely outside of what you think you normally like, but there it is – you're smitten. By the same token, there is some artwork that you don't think much of, at first glance anyway. But your eyes keep sliding back to it, again and again, though you're not sure why. Intrigued, you return to the artwork to look at it more closely, to pay attention to it. These are the types of...
Women helping local women – that was the theme of the United Way KFL&A's first Women United reception of the year on April 4. The event was held at Studio 22 Gallery and invited women in the community who are Leaders of the Way to attend, learn more about the issues facing women locally and have conversations on how to prevent those issues.
"We can find inspiration everywhere," Nenkova said this week. "Living in Sudbury we are surrounded by stories of hardship, persistence and success, especially as they relate to mining. We need to remember that while most of us want to enjoy material things, such as cars, houses, or the latest iPhone, few of us appreciate the real price paid by the people who tirelessly worked underground to make these things possible."