Phillida Hargreaves is an award winning artist who has been making and selling fibre art in the Kingston area for overs 20 years. Phillida's first solo show with Studio22 was titled Narrow Spaces, new works in textile and fibre, back in the Spring of 2014.
Art is the way I keep my balance in a changing world.
For me, balance does not mean stasis. I recognize that in nature, just as in the social environment, things are in a constant state of flux. But I still strive to find a point of equilibrium, even if it is only transitory. My goal is to find, and to offer, a small island of calm to the viewer. I choose fibre as my medium because of the variety of textures available to me. From the beginning I included hand woven wools and pleated organzas with the flatter cottons and silks. Recently my work has become increasingly three dimensional as I include knitted elements in my pieces.
I am privileged to be a member of the Kingston Fibre Artists, a group of women who are interested in experimenting with the medium, and from whom I derive both energy and inspiration.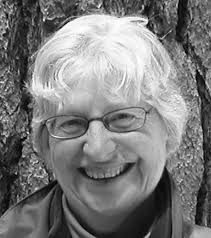 Artist Statement 2020:
"Rocks are the exposed bones of the earth. Their size, solidity and longevity appeal to me, and the forces that form and sculpt them intrigue me. This series celebrates rocks in a number of detailed studies. Each frames the rocks as subjects of beauty in their own right, rather than as part of a larger landscape. I am interested in their form, texture and the subtle complexity of colours within them. I often pair the rocks with the plants that colonize them or the water that erodes them. Rocks change over time and it is these elements, plants and water, that bring about the changes. Their visual presence offers movement as a  contrast to the immutability of the rocks. Each piece is built up in layers. I start with whole cloth which is dyed, then painted, printed and drawn on with ink. I add pieces of transparent fabric and then I hand embroider the whole to add extra textural dimension. The rocks which have inspired me are local, national and international. They include rocks from Newfoundland, the Yukon, Iceland, the Colorado Plateau, the Canadian Shield, and our local limestone rock cuts and shoreline."