Longtime Kingston resident, Margaret Hughes creates stunningly beautiful pastels, generally still lives, which often feature her own ceramic pieces, thus bridging the gap to the other artform to which she has devoted more than 50 years.
Born in South Africa, Hughes has lived in Kingston since 1968.  A multi-disciplanary artist, she has produced decorated ceramics, paintings and pastels for about 40 years.  She was co-owner (and one of the co-founders) of Cornerstone Fine Crafts in Kingston from 1981 – 2004.  She has exhibited her work in ceramics locally, provincially and nationally and paintings and pastels locally and in Toronto.  Hughes was also a teacher of ceramics and art.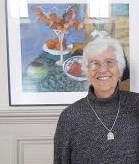 Artist Statement:
After closing my ceramic studio I adapted it to serve as a painting studio and returned to painting and drawing where I had started.  For a number of years I have been one of the regulars who meet at Erika Olson's studio, the so-called Shag Rug Studio, to work on still life or whatever we choose to work on.  The artist's life is rather solitary and our regular gatherings provide opportunity to critique and receive critiques of our work from respected peers.  I have found these gatherings to be stimulating, helpful and thought provoking, especially when experiencing a "dry" spell.