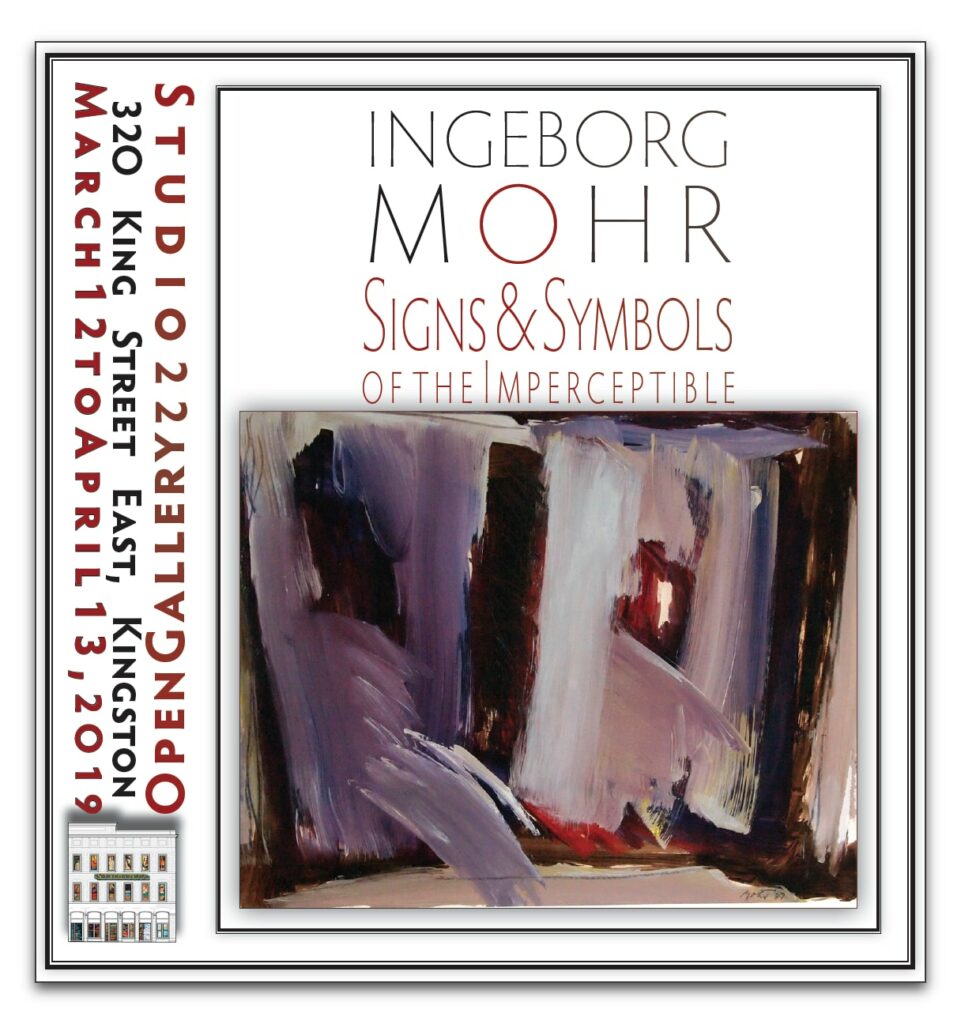 A Selection of Paintings by Ingeborg Mohr
Opens March 12th and runs to April 13th
Previews and pre-sale will take place March 12th to March 15th
To celebrate the launch of its 2019 season, Studio22 Open Gallery is delighted to offer the Kingston community a unique opportunity to discover and explore artwork from the late Ingeborg Mohr with a new solo exhibit that will run from March 12th to April 13th. . 
As this will be the first exhibit for Studio22 that examines the work of a deceased artist, the exhibition entitled Signs and Symbols of the Imperceptible will feature a selection of paintings from Mohr's vast personal collection of unsold work. For those unfamiliar with Mohr's work, this show will serve to introduce the South Eastern Ontario community to a new artist, perspective and hopefully source of great pleasure over the coming years as Studio22 continues to build and grow its relationship with the Mohr family as well as continues its exploration into this prolific artist's expansive body of work.
Ingeborg Mohr began her artistic career producing watercolour paintings inspired by the landscapes of her childhood in Austria as well as day to day life when she moved with her husband and three children to Saskatchewan. It wasn't until she moved to Toronto in 1955 and encountered the work of the Painters Eleven that she began exploring the variable physical characteristics of paint and colour as a means to convey pure emotion over profound meaning. 
As can be seen throughout the selection of work in Signs and Symbols of the Imperceptible, Mohr did not approach her craft to create meaning for the viewer. Instead, through the purposeful use of layering and colour, the artist was on a quest to discover the essence of her own existence and, more importantly, uncover truths about the human condition. 
When asked about the meaning I had intended to express in a certain painting I have to give the often disappointing answer that no meaning had been intended and no outcome had been foreseen before or while working. What I do hope for, however, is that the final result- the new object that has come into being- will exceed me in depth and reach. – Ingeborg Mohr, Notes on Painting, March 2000
It is only when standing directly in front of one of Mohr's pieces that one can truly appreciate the beauty of the unanswered questions, embedded in the layers of paint and left behind for us, her audience, to dissect and absorb. The viewer is drawn into the canvas with curiosity, enraptured by the complex composition of the artwork and fundamentally moved by the personal revelations of the artist. Signs and Symbols of the Imperceptible, is an exhibit full of promise, longing and mystery about one woman's quest for self exploration that ultimately crosses the boundaries of time and space.
Ingeborg Mohr was born in Innsbruck, Austria in 1921. Over the course of her notable career that spanned four decades, she produced hundreds of paintings that now hang in private and public collections in Europe, Canada and the United States. She was elected to the Ontario Society of Artists in 1975 and to the Royal Canadian Academy in 1980. In 1981, Mohr moved to Howe Island with her husband and the couple converted an old barn into an impressive home, studio, and gallery space. Mohr held several successful exhibitions of her work in the space, while continuing to show at other galleries, such as the Edward Day Gallery in Kingston before it closed and was re-opened in Toronto in 2003. Ingeborg Mohr passed away in 2004.