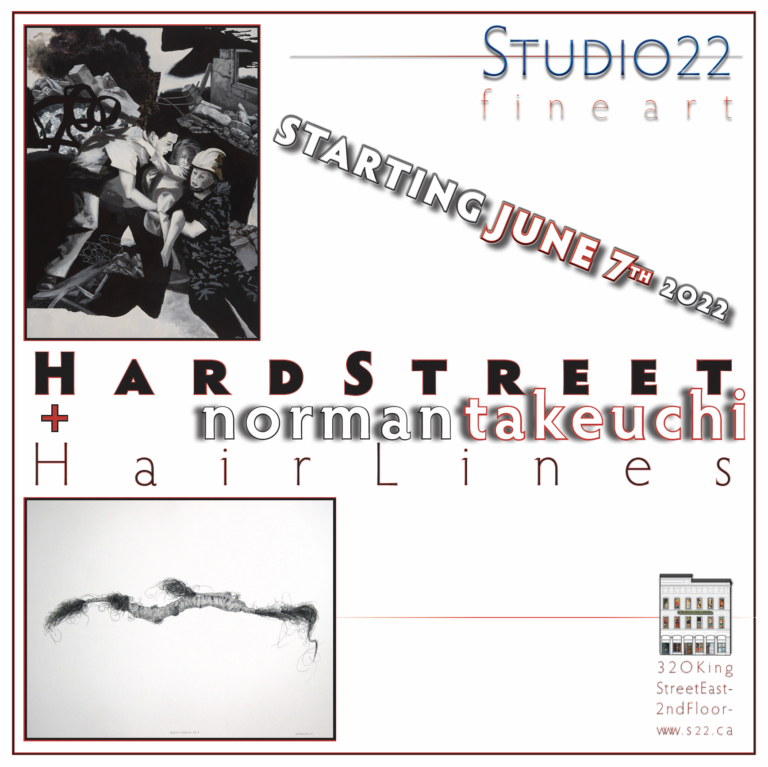 Series Showcase

Hard Street & Hair Lines
NORMAN TAKEUCHI
Hard Street is a series inspired by many disturbing stories and images coming to us from different parts of the world. The artworks are mostly done in black and white, and each show violence and destruction on the streets – a gas-masked protester with unidentifiable banner in hand, others throwing rocks or fleeing authorities. Yet there are also humane scenes of rescue and protection.
"I come across photographs of protesters frozen in grace and athleticism and I am struck by the incongruity of the dance-like postures in a landscape of desperation and destruction. Other images such as people fleeing for their lives, also strike a chord."
– Norman Takeuchi
Inspired by process-based Ottawa artist Karen Jordon's sculpture series Cultivars, Hair Lines presents a life as drawn by hair and hair set to paper via the conjuring of line. When Norman Takeuchi encountered Jordon's work in 2005 he was intrigued by the tension and materiality of the organic forms and initiated a series of drawings. Takeuchi's delicate renderings call to mind botanical or anatomical studies in their intricacy and acute attention to detail.
 Artist Biography
Born in Vancouver, some of Norman Takeuchi's earliest memories are of the interior of BC where his parents were forced to relocate during World War II.
Ultimately graduating from the Vancouver School of Art in 1962, he went to London, England, to concentrate on painting, and again in 1967 with a Canada Council grant. In 1996, he left a design career to focus on art.
He has since participated in many solo and group exhibitions. His work is represented in permanent collections of the Royal Ontario Museum, Canadian War Museum, Ottawa Art Gallery, Canada Council Art Bank, City of Ottawa, Carleton University Art Gallery, and in private collections in Canada and abroad.