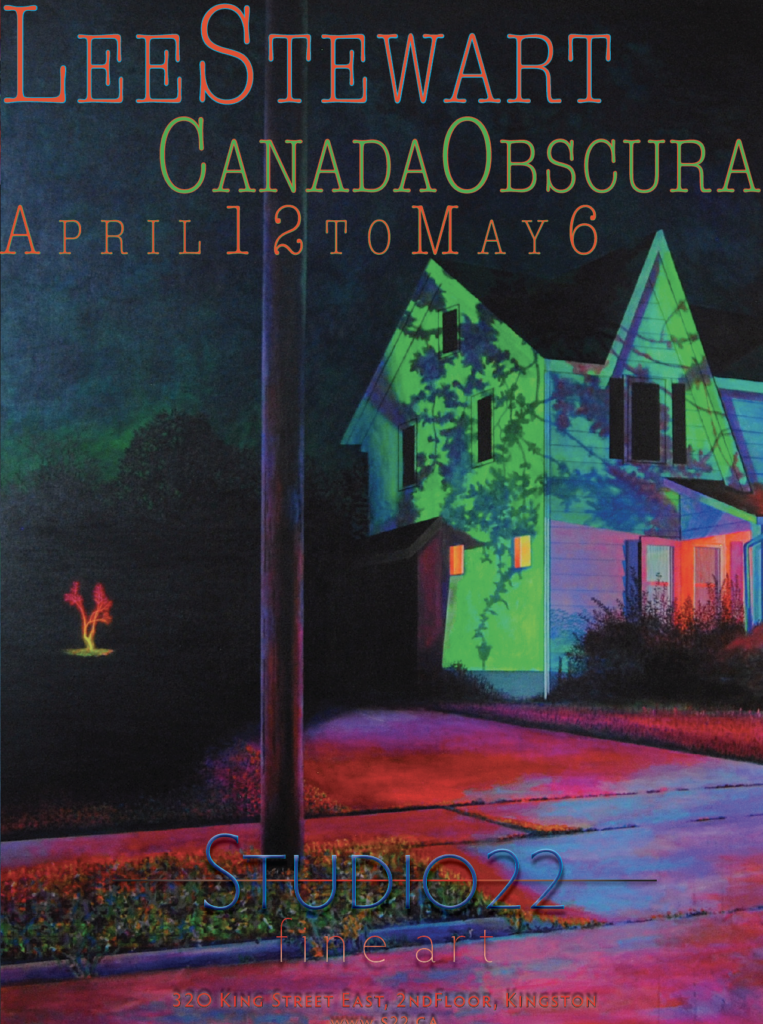 Canada Obscura 
by Lee Stewart
April 12th – May 6th
The only thing predictable about an exhibit by artist Lee Stewart is the nature of its unpredictability. As an indigenous mixed-race artist, Stewart sees and experiences the world differently than the majority. This sense of 'otherness' permeates his craft and is reflected in his art. Intense, high contrast colour combinations of black and neon, depict familiar scenes that attract the eye. Disguised within the juxtaposition of loose and detailed brushstrokes lurks an element of surprise and draws the viewer deep into his canvas. 
As a lover of both historical and pop culture references, inside jokes and puns, Stewart has titled his latest exhibition Canada Obscura. These new landscapes, a series of scenes depicting nature and suburban life, were painted in his very own 'dark chamber'; at night, during the pandemic, in lockdown. 'Canada Obscura' memorializes otherwise fleeting moments and captures beauty in the mundane. Executed with Stewart's signature 'expect the unexpected' twist, this new exhibit is sure to intrigue first time buyers and collectors alike.
Preview and presale for this exhibit will take place Tuesday, April 12th and Wednesday, April 13th. Exhibit opens to the general public for purchase on Thursday, April 14th. 
Opening Reception, with live music, will take place on Thursday, April 14th from  7-9pm. The artist will be in attendance. Masks are required while inside the gallery.
Artist Statement
"I like the idea of being a visual vampire. My paintings can be alluring, but like vampires, their intentions are not exactly what they present on the surface. There is a constant push and pull."
Artist Biography
Lee Stewart was born and raised in Kashechewan, a small remote reserve on James Bay, Northern Ontario. He spent years in the Rideau Lakes region, studied film and art history at Carleton University in Ottawa and then lived in Vancouver before returning to establish himself in Kingston.
Stewart's cultural influences are as vast as his lived experience, without hierarchy or elevated status. As a self-taught artist, Stewart's experimentation, innate curiosity and openness continue to shape his evolving style.