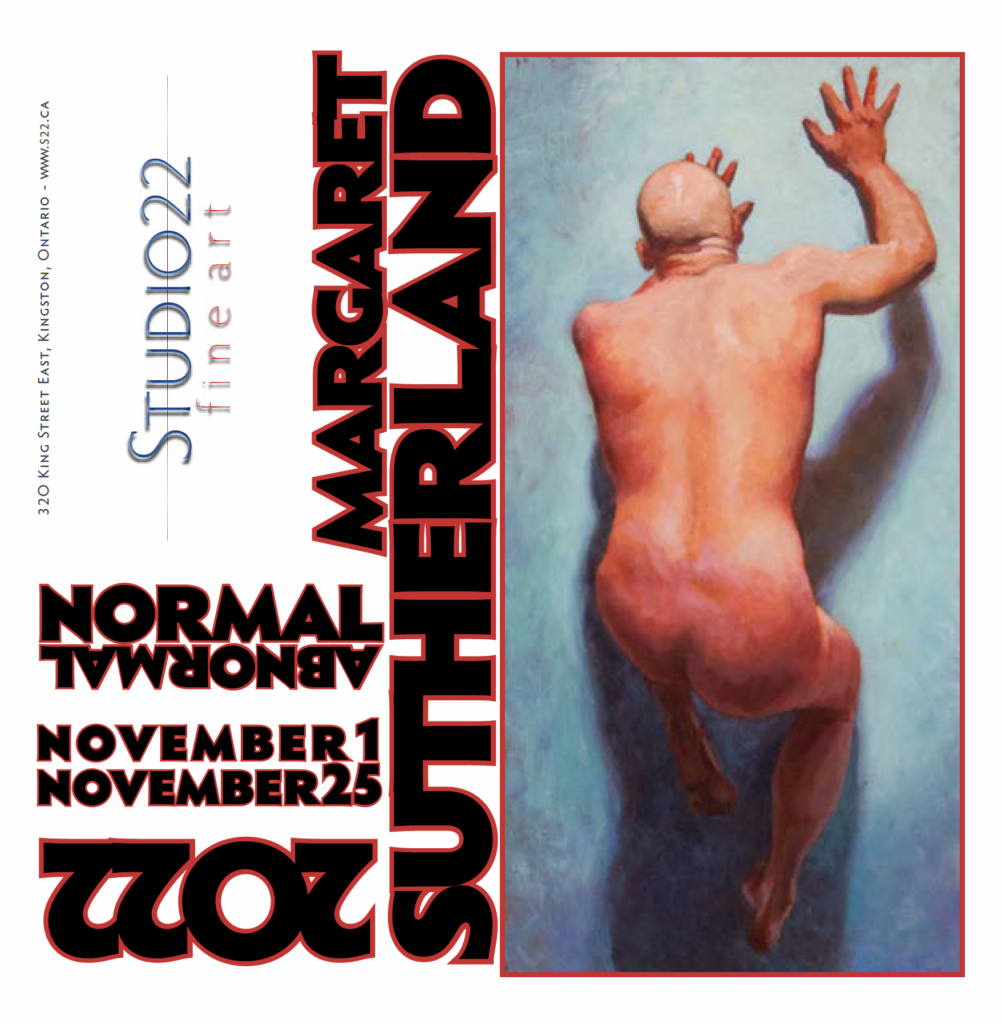 Solo Exhibition
NORMAL ABNORMAL
by Margaret Sutherland
November 1st – November 25th
During the past few years, when uncertainty loomed and our collective resolve was put to the test, Margaret Sutherland turned to an online course, which used the traditional technique of copying the faces in Old Master works, to improve her technique as well as help her find her creative path forward.  There are paintings of lone figures feeling their way along, and ones which look at other societal questions.  There are small copies and interpretations of details from old master paintings, from one hundred to four hundred years ago.  Sutherland found these richly rewarding to paint leading her to research the historical and social backgrounds of the artists and their sitters, which reminded her that all these people lived through threatening times of pandemics, wars, religious persecution, and other calamities, yet still created great works that continue to reach out to us today.  
The composition of this exhibit jumps off with work composed after her last solo exhibit Flesh and follows her exploration of the old masters and then lands in a fresh new place with a more vibrant palette and a renewed creative energy.
Preview and presale for this exhibit will take place Tuesday, November 1st and Wednesday, November 2nd. Exhibit opens to the general public for purchasing on Thursday, November 3rd. 
Halloween-themed Opening Reception will take place Thursday evening, November 3rd from 7-9pm. Costumes are not required but encouraged
Artist Statement:

Well, it's been a time! It still is. Things are beginning to feel a little more familiar, if not normal. We are challenged by continually having to update our neural software. Slowly, frustratingly slowly, we seem to be learning to roll with the punches of recent health, climate and political crisis. We may be onto some meaningful path without much lurching into the ditches of the desperation or denial. This collection of work traces my own bumpy, frequently interrupted artistic and personal ride of the past three years. 
Continuing to explore, I began to have fun with tubes of pretty, bright colours of paint that I had never or rarely used. Expanding on my classical palette led me to experiment with painting more loosely, expressively, and abstractly, viewing my work from a slightly different perspective.
Recently, a last Teris block seemed to drop into place. When I finally felt more comfortable being in the company of others outside my bubble, I realized that what I was lacking was the regular human contact with friend and particularly arts colleagues. With the renewal of that emotional and intellectual rubbing up against each other, new possibilities emerged and I was able to return to the social questions with some recalibrated tools in my art bag. Art is difficult to find in a vacuum or a cocoon, apparently.

Artist Biography
Kingston-based artist Margaret Sutherland is a highly skilled and professionally trained artist committed to creating art that is unwaveringly thought provoking. In 2015 she received national attention for the resale of her painting Emperor Haute Couture (2011).  
A decade after graduating from Queen's University in Arts and then Education, Margaret Sutherland formalized her professional art pursuit with a Master of Fine Arts (Cum Laude) in 2001 from The Graduate School of Figurative Art of The New York Academy of Art.  Her path to fine art was organic, yet circuitous, having spent time teaching at home and abroad in Hong Kong with her husband — and realizing that her passion lay in something else.  Sutherland grew her skill in community groups and high school art courses open to adults through NDSS before pursuing her degree. 
The artist's emotionally evoking work provides commentary on both the sociological and biographical realm. Her highly sought after oil paintings are in numerous private collections.