Evelyn Rapin is a professional artist living in Kingston, Ontario, Canada. Her paintings are frequently based on musical themes, however other genres are produced on occasion.  She has participated in many exhibitions, and her work is in collections including Bank of Montreal, Canadian Imperial Bank of Commerce and the University of Western Ontario.  Her images have been in various publications such as JazzTimes Magazine and Musicworks Magazine, and used by the Toronto Symphony Orchestra and the MIT Symphony Orchestra to name a few.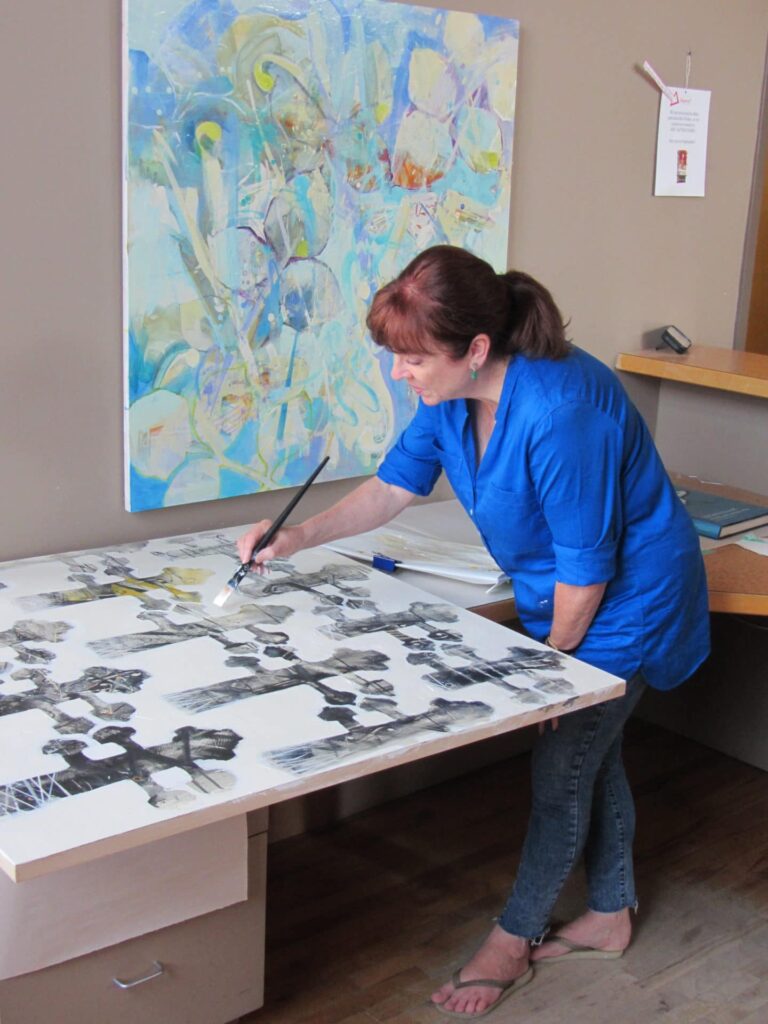 ARTIST STATEMENT

For years I have studied the aesthetics/psychology of music and translated musical ideas into two dimensions by employing the painter's elements of form, i.e., line, texture, shape, volume etc. Composers also rely on certain devices such as rhythm, tone color, repetition etc., to structure musical arrangements, which can be visualized/imagined as form.
This is validated by composers/writers such as Aaron Copland, Nicholas Cook and Phillip Glass.* Descriptions of musical creativity and gestalt principles unite this painter's imagination with a composer's language of inner expression. Also relevant is J. R. Pierce* and his work on physical and psychoacoustics.
Making the invisible visible is central to my music inspired works, and the writings of these experts have supplied infinite inspiration.
Ending the decade and kicking off 2020 in a BIG way! Have you spent the better part of 2019 staring at blank walls? Have you dreamed of finding a perfect one-of-a-kind signature piece for your home or office? 2019 has been a great year for Studio22.  We have had 8 successful solo shows as well as acquired a number of fabulous new artists. It is our desire to end the year with an exhibit that offers the most exceptional pieces to our most valued customers for their homes and offices. Something Big is a group exhibit featuring large art by: Bruno Capolongo Jane Derby Stefan Duerst Debra Krakow Rick Lapointe Keight MacLean...
What I experience when I look at Evelyn Rapin's paintings isn't quite thought or thinking. No. Rapin's paintings compel associations that skip like a stone across the pond of memory and insist on a response.
THE HOUSE THE SPIRIT BUILDS: Coinciding with the Kingston WritersFest happening Sept. 25 to 29, Studio 22 is exhibiting a work that blends the visual and the literary arts. THE CONCERT SERIES: Rapin's The Concert Series was inspired by a concert she attended at The Isabel Bader Centre while sitting in the front row in 2017.
Rapin's work highlights the harmonious intersection of two art forms and encourages the viewer to explore and celebrate the aesthetics and powerful psychology of music.
A gift is many things.  It is not always of a physical nature, and a physical offering is not always the real gift.
Every 3 months, a grouping of our regular artists exhibit a selection of brand new works throughout the gallery.