Born in Vancouver, some of Norman Takeuchi's earliest memories are of the interior of BC where his parents were forced to relocate during World War II. Ultimately graduating from the Vancouver School of Art in 1962, he went to London, England, to concentrate on painting, and again in 1967 with a Canada Council grant. In 1996, he left a design career to focus on art. He has since participated in many solo and group exhibitions. His work is represented in permanent collections of the Royal Ontario Museum, Canadian War Museum, Ottawa Art Gallery, Canada Council Art Bank, City of Ottawa, Carleton University Art Gallery, and in private collections in Canada and abroad.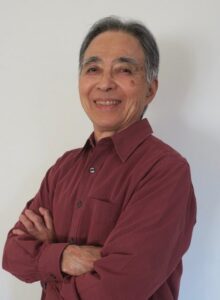 Not currently available – If you are interested in this, please contact us.
Not currently available – If you are interested in this, please contact us.
Not currently available – If you are interested in this, please contact us.
Artist Statement
Certain events can have a major impact that will last a lifetime. The forced removal of the Japanese Canadians – my family was among them – from the west coast into the B.C. interior in 1942 is one of those events. My troubled feelings regarding that disordered time have remained unfaded along with my ambivalent attitude towards being Canadian of Japanese origin.
Some years ago, as a way of coming to terms with my ethnicity, I began integrating into my predominantly abstract paintings images from traditional Japanese woodblock prints to illustrate the concept of duality – of being Japanese and Canadian. This became, and continues to be, the focus of my work. There are also references to familiar Canadian icons such as the moose and grain elevators. Jarring compositions, juxtaposing abstract forms with images from old Japan, reflect the feelings of dissonance that stem from the memory of difficult times and the blending of two very different cultures. Recently, the abstract forms have become more rigorously integrated with the woodblock images, an indication perhaps of a coming-to-terms with my ethnicity and even a celebration of my Japanese heritage. The paintings represent an uneasy search for harmony and balance between the two worlds but ultimately they are a celebration of my Asian heritage.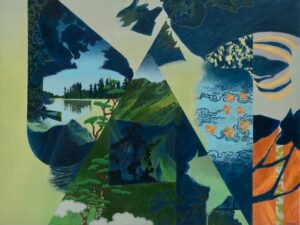 2020 Visions Exhibitions Launched at Studio22 Open Gallery – by Kamille Parkinson
With a nod to the expression "20/20 vision," Studio 22 Open Gallery on Market Square has launched a series of exhibitions for 2020 called "It's a Vision Idiom." . . . . The first of the series, titled "More than Meets the Eye," has recently opened and features the work of painter Norman Takeuchi and fibre artist Phillida Hargreaves.