Teresa Mrozicka is based in Sydenham, Ontario. Originally from Poland, Teresa received her training in fine arts at Nicolaus Copernicus University in Torun, and graphic arts at George Brown College in Toronto. She has been painting for over 15 years and is perhaps best known for her unique three-dimensional pointillism. Her work can be found in private and corporate collections in Europe and North America.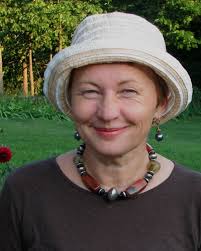 Not currently available – If you are interested in this, please contact us.
"I feel very fortunate to live in Canada, a country that has given me the opportunity to follow my passion. Growing up in a small town in Poland I didn't have the opportunity to see original paintings of great masters, but that didn't stop me from looking at the reproductions of famous paintings for hours. Right there the passion for art was born. The colour, texture and form was so vivid and rich, the impression on my mind so deep and intense, I thought that only a very gifted person could become an artist, never  considering becoming one myself. Then life took its course and led me to studying and later practicing painting. Having been painting for more than 30 years, I came to the conclusion that it's not skill or technique that is crucial, but … the passion to be creative and expressive in every step of life and to have the courage of tuning inwards and enlivening the spirit."– Teresa Mrozicka
Artist Statement 'Sunday Morning with Matisse' (2016):
The struggle of painting without using toxic turpentine led me to a discovery. It has been over a decade that I have been mastering a new technique that contains vibrant bold primary colours in a textural pointillism style, with individual dabs of paint rising in sometimes spiky protrusions from the surface of the canvas. Applied overtop a flat underpainting that suggests the finished work, these dollops of paint (actually individually laden brushstrokes) produce three-dimensional pointillism, and each serves to capture light and/or create shadows, depending on how light strikes the surface. The paintings look like they have little jewels applied all over the surface, and have rich, tactile quality with rhythm and symmetry. The ultimate goal I wish to accomplish, mastering my technique is to be able to captivate the energy of an inner glow in each individual painting and find it's unique pulse.
Most recently the female nude has become the subject. Her landscape-like body manifests the tendency to intertwine with earthy Elemental Forces that I have been working with in the past. Spring is Air – youth. Summer is the Sun and the fruition of our mature years. Autumn is Earth – harvest time, old age. Winter is peace and death. Essential waters are transformed into snow. Currently I have been contemplating the essence of beauty, openness and the need to give and connect, I imagine our Planet as a vulnerable woman that needs to be respected, loved and cherished. I would like her to continue to flourish and give life.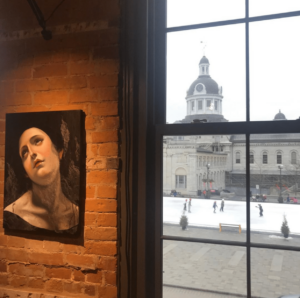 Studio22: Art Gallery For All – by Tianna Edwards
Perhaps you've seen its shiny gold sign in art deco font on the northside of King Street beaming on a sunny day? Next time take a look inside and you'll find a curation of Canadian art made up of work by 50% local artists and 50% artists from across Canada. Rest assured, you won't be walking into a stuffy gallery filled with pieces that are only made to be admired from afar. You will find work created by artists inspired by Kingston's incredible community and Canada's stunning landscapes.