Beloved children's book author and Yarker, Ontario based artist, Wallace Edwards, works primarily in watercolour, guache and pencil, using a variety of styles from cartoon to scientific illustration.  His wonderful and whimsical works are renowned for their elaborately dertailed depiction of animals, both real and imaginary.  In 2002, he won the Governor General's Award for children's book illustration.
Edwards was born in Ottawa, Ontario, and is a graduate of the Ontario College of Art (1980). His paintings and illustrations are found in public and private collections, books, magazines, and on public display in Canada and the United States. Edwards' clients include the Metro Toronto Zoo, the City of Toronto, the B.C. Ministry of the Environment, the Canadian Children's Book Centre, the Canadian Wildlife Federation, and various magazine publishers. He has been the invited guest speaker at conferences, literary events, schools and libraries. He finds visiting with students from kindergarten to grade six especially enjoyable, where his presentations consist of reading, discussions, and drawing.
His art has been described as "Curious and witty, sophisticated and highly original in approach…" resulting in work which is "visually pleasing as well as mentally stimulating" (taken from the Canada Council for the Arts web site: http://www.canadacouncil.ca/prizes/ggla). His children's books been reviewed in the Quill and Quire, the Globe and Mail, the Toronto Star, Macleans, the Christian Science Monitor, the National Post, the Detroit Free Press, the Chicago Tribune, the LA Times, the Washington Post, and the School Library Journal, among others. Edwards lives in Yarker, Ontario, Canada, where, along with other commissions, he is working on his sixth children's book to be published by Kids Can Press.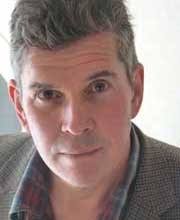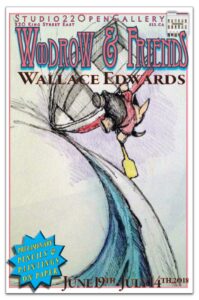 Woodrow & Friends: Sharing the Spirit of Generosity
As the story of 'Woodrow At Sea' compels the contemplation of the meaning of friendship, generosity and the importance of supporting those around us enduring hardships, perhaps one of the most special features of the exhibit is the love and compassion the artist exudes for animals, both real and fantastical, and his commitment to animal welfare and advocacy