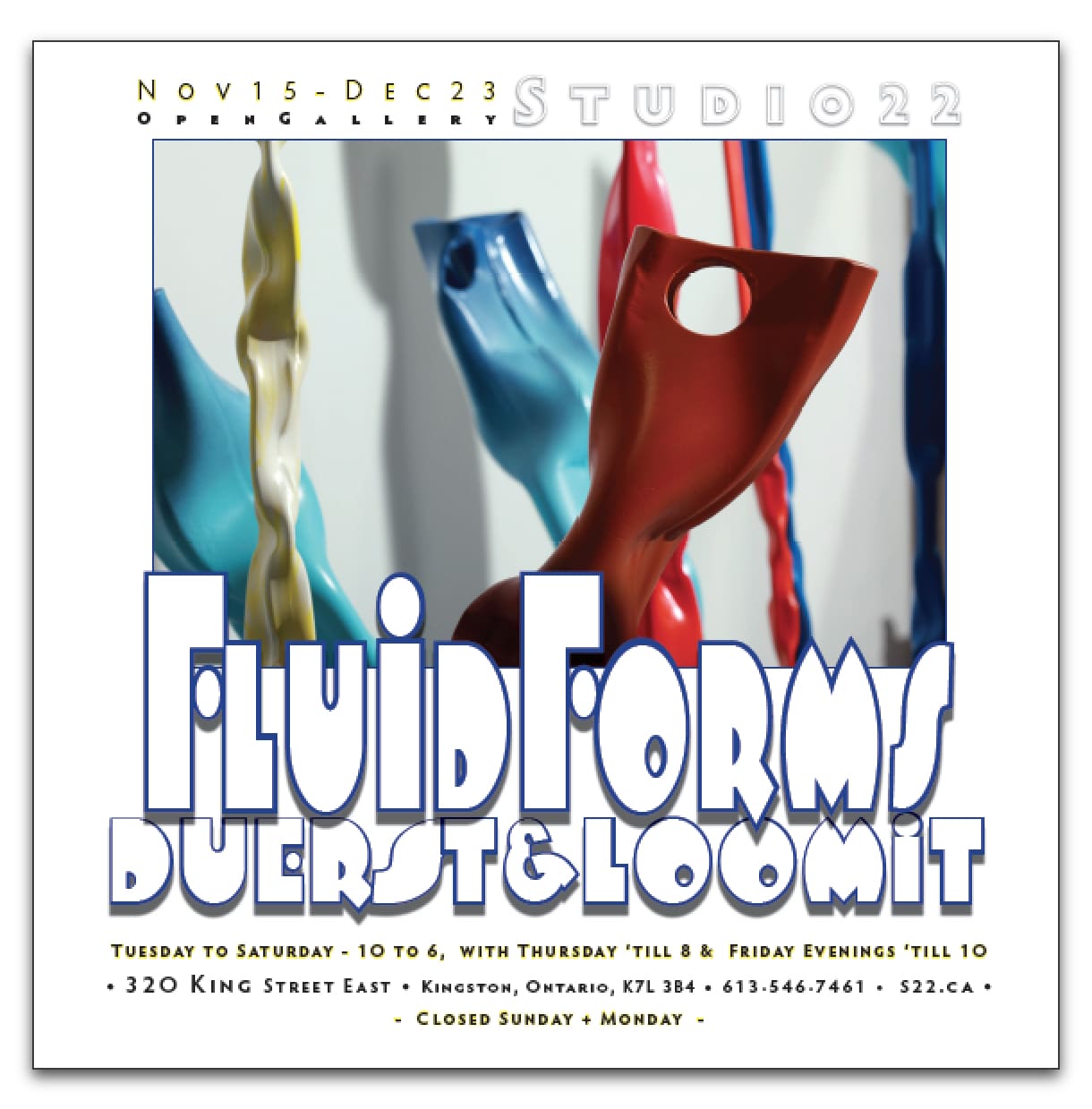 Fluid Forms break through the fourth wall.
Studio 22 Open Gallery is thrilled to present Fluid Forms, new work by artist Stefan Duerst.  The dynamic forms of Stefan Duerst's steel sculptures emerge as the fluid embodiment of his deeply creative essence.  The exhibition will feature new works created exclusively by Duerst as well as new collaborative pieces by Duerst and German graffiti artist  Loomit.
The art of collaboration requires a curious nature, a strong sense of experimentalism and an abundance of trust.  To find a kindred spirit, especially in the art world, which can often be quite isolating, creates a unique opportunity for openness, artistic development and inspiration.  This year Duerst, who is no stranger to collaboration, invited the graffiti artist Loomit to work with him on a new series of steel sculptures.  After heating, bending and shaping the steel into his characteristically sensuous and suggestive abstract shapes, Duerst entrusted them to Loomit, who transformed the raw steel finish with his mastery of spray painting.  For those who are familiar with Duerst's work, there are signature favourites;  the ribbon-like Soul Gate and the provocative Kommunikation series, to name a few.  Yet the results of this artistic collaboration are astonishingly new.
Two early pieces were created in Duerst's Godfrey studio and shipped to Munich, Germany where Loomit applied his finishing touch.  The rest of the collaboration took place during an exceptional week in September, 2016 which Loomit spent in residence at Duerst's Studio at Godfrey Sculpture Park.  No doubt, like Duerst himself, Loomit was inspired by the incredible natural beauty of the Canadian landscape.  The juxtaposition of graffiti art applied to three-dimensional sculpture is akin to the very notion of using a material as industrial as steel in shapes as fluid as fabric.
German-born Stefan Duerst has been experimenting with metal since 1992, first as a blacksmith and ultimately as as an abstract sculpture artist.  He emigrated to Canada in 2002, inspired by the wilderness of the Canadian Shield, where he lives, creates, and inspires others on the 60 acre property which he has developed into Godfrey Sculpture Park.  Munich-based Loomit has been working in the medium of spray paint since 1983, combining creative lettering and imagery, and establishing himself as an internationally recognized graffiti artist for his large wall productions.
FLUID FORMS will be on display from November 15 – December 23.
Gallery Hours:  Tuesday to Saturday 10 am to 6 pm, Thursdays until 8 pm, and Friday Evenings until 10 pm.