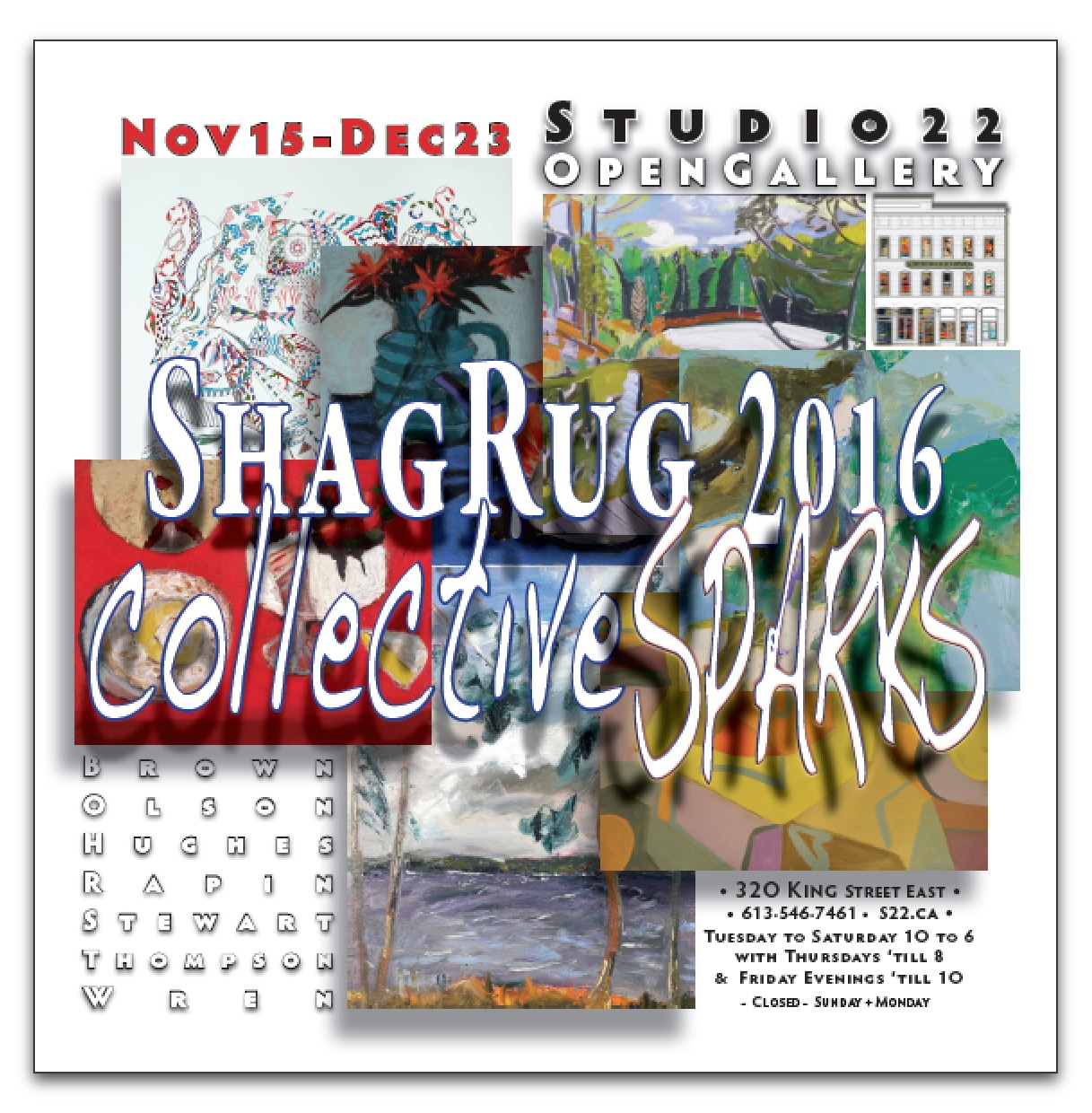 Communal work sessions ignite collective sparks.
Studio 22 Open Gallery is delighted to present Collective Sparks, an exhibition of new work by the Shag Rug Collective.
Composed of some of the most respected and established artists in the Kingston community, the Shag Rug Collective represents an array of diverse styles and varied subject matter.  For many years the members of the artists' collective, which was named after the yellow shag rug which once adorned the studio of founding member, Erika Olson, have gathered together to inspire and nourish each others creativity.  Each individual brings their own unique perspective to the treasured experience of working together in a group setting, often around a shared still life, and the collective sparks which these gatherings ignite.
In addition to the animated still lives of Studio 22's seasoned artists, Erika Olson and Margaret Hughes, the exhibition also includes the vibrant landscapes of Sharon Thompson and Josephine Wren, as well as the imaginative abstraction of Evelyn Rapin, Rose Stewart and Deborah Brown.
Erika Olson finds inspiration working from life—particularly the perishable and delicate nature of food—elevating the domestic sphere into the realm of art.
Margaret Hughes, an accomplished ceramicist, painter and pastel artist, often bridges the gap between her various media by drawing images of her own ceramic pieces.
Sharon Thompson, an artist of diverse inspiration, creates memorable works from landscapes to abstraction, or whatever happens to catch her well trained eye.
Josephine Wren paints the world around her, in part because the act of creation connects her to her own existence, resulting in lush landscapes and still lives.
Evelyn Rapin frequently bases her intensely colourful imagery on musical themes, creating lively works of abstraction.
Rose Stewart's abstract compositions dance with eclectic forms and vibrant colours.
Deborah Brown creates intricate and organic abstract drawings.
Collective Sparks will be on display from November 15 – December 23, 2016.
Gallery Hours:  Tuesday to Saturday 10 am to 6 pm, Thursdays until 8 pm, and Friday Evenings until 10 pm.