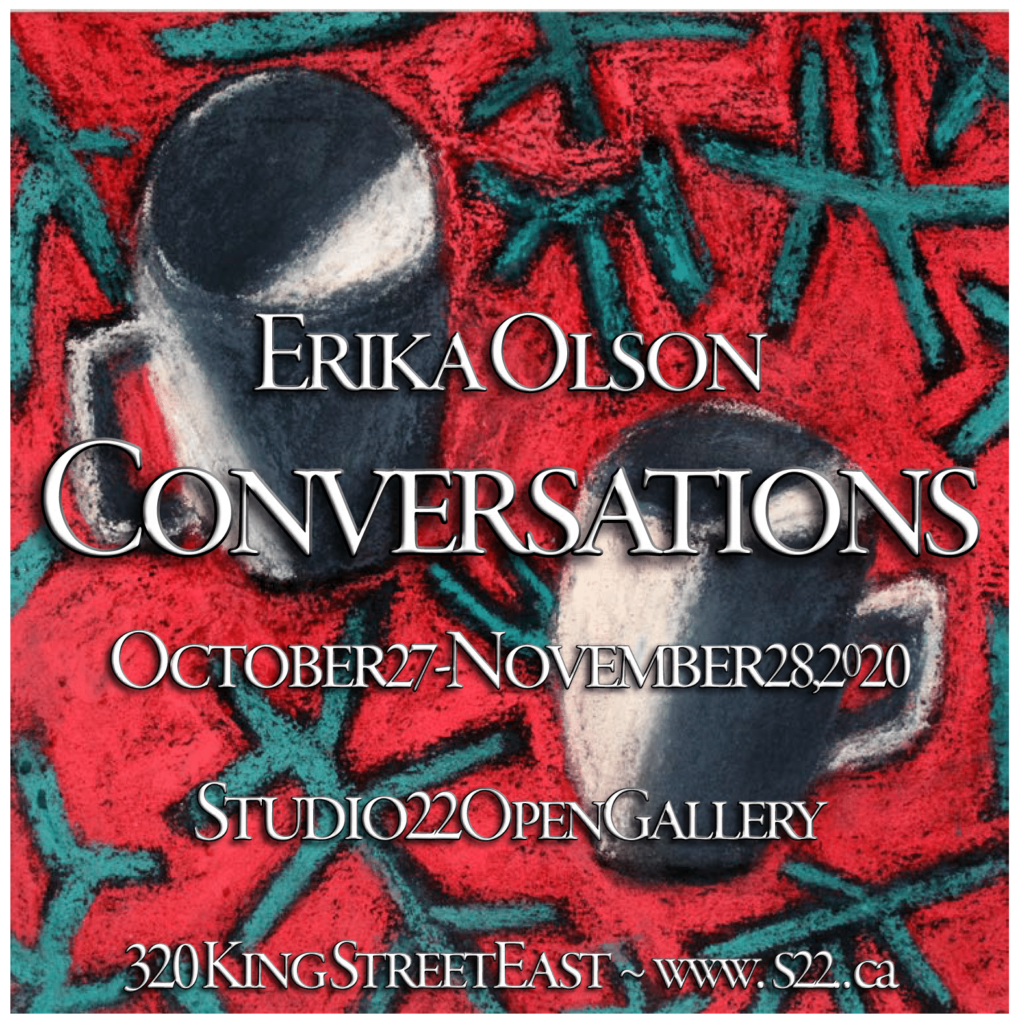 Conversations 
by Erika Olson
October 27th – November 28th
 Part of  Studio22's 2020 vision idiom A Different Point of View.
Preview and presale for these exhibits will take place from Tuesday, October 27th to Friday, October 30th. Exhibit opens to the general public for purchase on Saturday, October 31st.
On Thursday evening, October 29th at 8pm, Studio22 will be hosting a Live Stream Exhibit Opening featuring Debra Krakow and Erika Olson and the Studio22 team. All customers, subscribers and members of the general public are invited to login to view the exhibit and interact with the artists from the comfort of their own home.
Artist Statement
"These paintings and drawings delight in conversations and celebrations. The cakes are inspired by vintage images from Betty Crocker's New Picture Cookbook from the 60's given to my mother when she was married. According to Betty Crocker "cakes are the food of the gods…. (and) an ingenious nun created the forerunner of our fine textured, delicately flavoured cakes by creaming butter and sugar for two hours." Two hours!
We mainly have cakes at celebratory functions, birthdays, graduations, Christmas, retirement parties, reunions and most especially weddings. Events that have been curtailed or cancelled or postponed due to Covid 19.
The smaller pastels are about conversations where the objects take the place of people. I feel that the objects in my still lifes are anthropomorphic and they are communicating and conversing with one another. "Coffee with You" is the yearning for a stimulating conversation over coffee depicted by two coffee mugs with a bright and colourful background and "Tea in the Garden with You" is a reference to being able to be outdoors, social distancing but speaking in person. Larger pieces are a closed circuit of communication, dialogues or soliloquies or larger conversations about more formal elements of a painting. The objects speak for themselves and although they are still lives they tell stories about who we are."
– Erika Olson
Erika Olson
Erika Olson began her fine -art studies at Queen's University. She then attended the Nova Scotia College of Art and Design. She completed her BFA at Concordia University in 1997 concentrating on painting and relocated to Kingston to set up her art practice. 
 
Erika has shown in Kingston, Toronto and Calgary and in the UK represented by the Innocence Gallery.