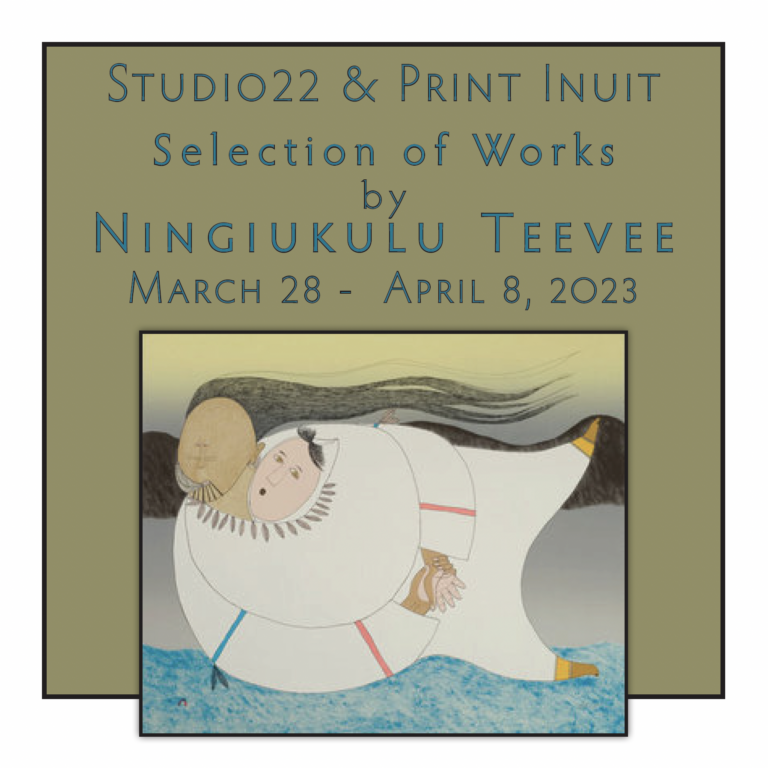 Studio22 Fine Art is collaborating once again with Print Inuit to bring you a selection of thirteen artworks by Ningiukulu Teevee.
Through vivid imagery, a tad of mischievous humour and unwavering compassion for her community, Teevee shares with us the stories of Arctic wildlife, Inuit ancestors and contemporary life in Kinngait. 
Ningiukulu Teevee is a talented graphic artist and writer based in Kinngait, Cape Dorset, NU. Teevee shares her unique perspective on historical and contemporary Inuit culture through both her visual art and writing. In particular, her ability to capture and distill stories into drawings and prints is part of what makes Teevee's work so popular. She is noted for her frequent and playful translation of traditional stories into dynamic compositions.
Since 2004, Teevee's work has been included in the annual Cape Dorset Print Collection and featured in numerous exhibitions across Canada and the United States including Ningiukulu Teevee: Chronicles for the Curious at the Art Gallery of Ontario in 2023.  Major public institutions that have collected Teevee's work include the National Gallery of Canada, the Art Gallery of Ontario and the Winnipeg Art Gallery. In February 2023, Teevee was long-listed for the 2023 Kenojuak Ashevak Memorial Award. 

Selected artworks, dating from 2004-2022, can now be purchased through our online shop where they can be picked up at the gallery or shipped anywhere in the world. In person purchases can be made as of Tuesday, March 28, when the gallery opens back up for regular hours.