Ran Jacob is an emerging abstract painter and drawer currently residing in Kjipuktuk (Halifax, NS).
As a life-long student of visual arts, Jacob most recently received his BA in Fine Arts from NSCAD University in Halifax, Nova Scotia. 
Jacob's first solo exhibit 'this time – with feeling' launched at Studio22 in September 2022. The previous summer Jacob's was selected by the Senior Leadership of Nova Scotia Health and members of the NSCAD faculty to work alongside three other artists on a commissioned artwork to be installed in Halifax's Victoria General Hospital.   
Utilizing rhythmic, flamboyant maximalism, Jacob's works are intentionally saturated with concentrated sensory reflections, compressed into quasi-abstracted large-scale records.
Raised in Kingston, Ontario, Ran is looking forward to exhibiting his latest body of work back in the city of his youth and beloved hometown.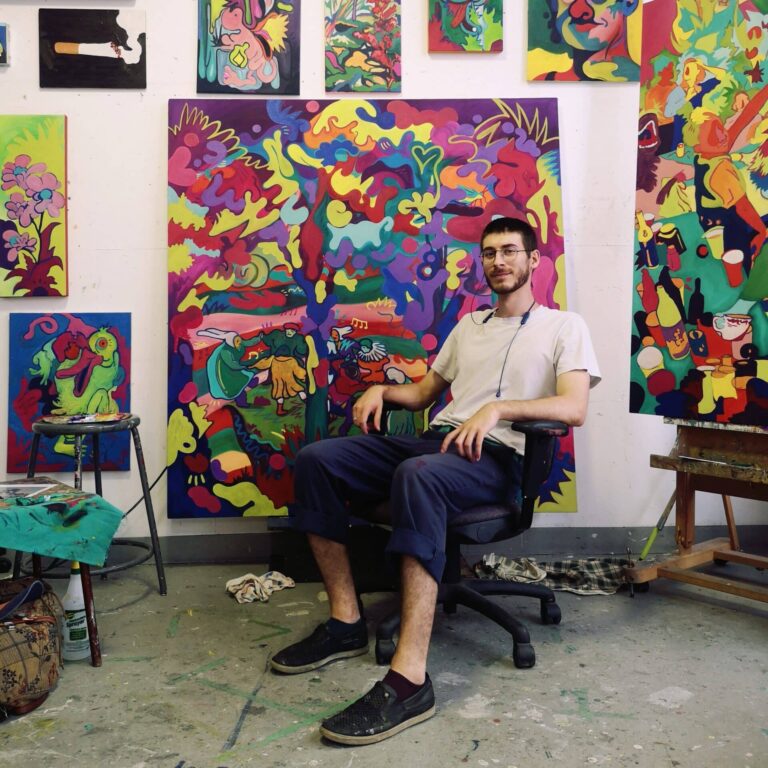 Not currently available – If you are interested in this, please contact us.
Artist Statement
Ran Jacob's newest body of work is a collection of abstract paintings the artist produced over the past two years.  The intensely saturated works that comprise this latest exhibit are intended as humorous impressions of the multifaceted nature of our collective lived experiences and relationships created throughout.
Through subtle winks or heavy-handed finger pointing the artist intends to reflect and cultivate in his paintings the same terrible, anxious beauty that he believes exists in all things. The contrasting duality of existence is precisely what it's all about. There will always be bad times, they are just as valuable as the good ones.