For Calgary, Alberta based, working professional artist, Sharon, Thompson, painting is a primary way to explore and connect with oneself, society and Mother Earth. Her painting practice has two branches; abstract and landscape. She is attracted to landscape painting for the opportunity to connect to the beauty, strength and power of the earth and to abstract painting for its capacity to express and explore from the inside what it means to be alive and human. 
Born and raised on a small farm outside of Peterborough, Ontario, music and art have always been a passion for Thompson however she did not begin formally studying the latter until much later after becoming a wife and a mother of three. Thompson applied and was accepted into the Bachelor of Fine Arts Program at Queen's University in Kingston, Ontario, and graduated four years later with First Class Honours. 
Her paintings have been exhibited extensively in group and solo shows in Canada and the USA, and are in private and public collections in Canada, USA, the UK, Germany and New Zealand, including the Permanent Collection of the  Agnes Etherington Art Centre (Kingston), IBM (Toronto), the Ontario Municipal Employees Collection (Toronto), CN Railways (Montreal), Mount Sinai Hospital(Toronto), Minilofts Collection, (Berlin, Germany). She has received Ontario Arts Council grants. Awards received include: The Society of Canadian Artists Award (2003), the Nan Yeomans Legacy Award (2010), the DeSerres Award 2012. She was the recipient of a half scholarship from the Vermont Studio Center. She is a juried member of the Alberta Society of Artist and sits on its board. She is an Honorary Lifetime Member of the Organization of Kingston Women Artists.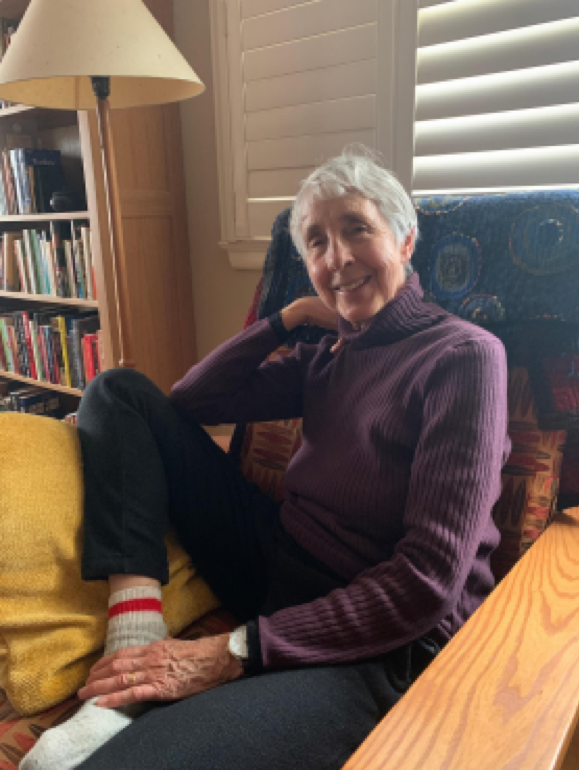 Not currently available – If you are interested in this, please contact us.
Excerpt from Abstract Artist Statement
Structure is the initial foundation in my abstract paintings. I begin each painting by drawing then adding colour to a series of carefully constructed, interconnected shapes relying step by step on inner somatic knowing. Using brushes and other implements I blend, sweep across and draw into this base, weaving lines of movement which I think of as the rhythms and gestures of like as experienced in my body and in the world around me. I 'listen' for pathways of interconnectedness in what is before me on the canvas. If I stay attentive, I am also aware as I work of a sense of wholeness between myself and the painting which I believe is how the paintings come to prioritize space and light. Ultimately a title arises which points the direction of what the painting is expressing. 

Excerpt from Landscape Artist Statement
For family reasons, in 2019, I moved from Kingston, Ontario where I had been living for a considerable time, to Calgary, Alberta. This move has serendipitously provided me, at my back door, with a landscape of expansive space and brilliant clear light which has been thrilling to explore and paint.

Artistically, the move has been both challenging and inspiring. It has been challenging because I have had to do an about face in my methods of landscape image making. I needed to learn how to transform a natural inclination for detail and intricacy inspired by the Ontario landscape into a search for how to render light and space, which the flowing, open simplicity of the Alberta landscape articulated so powerfully and directly. It has also been inspiring. It has felt like an artistic homecoming, appealing deeply to an already well developed personal interest in the luminous and the essential.