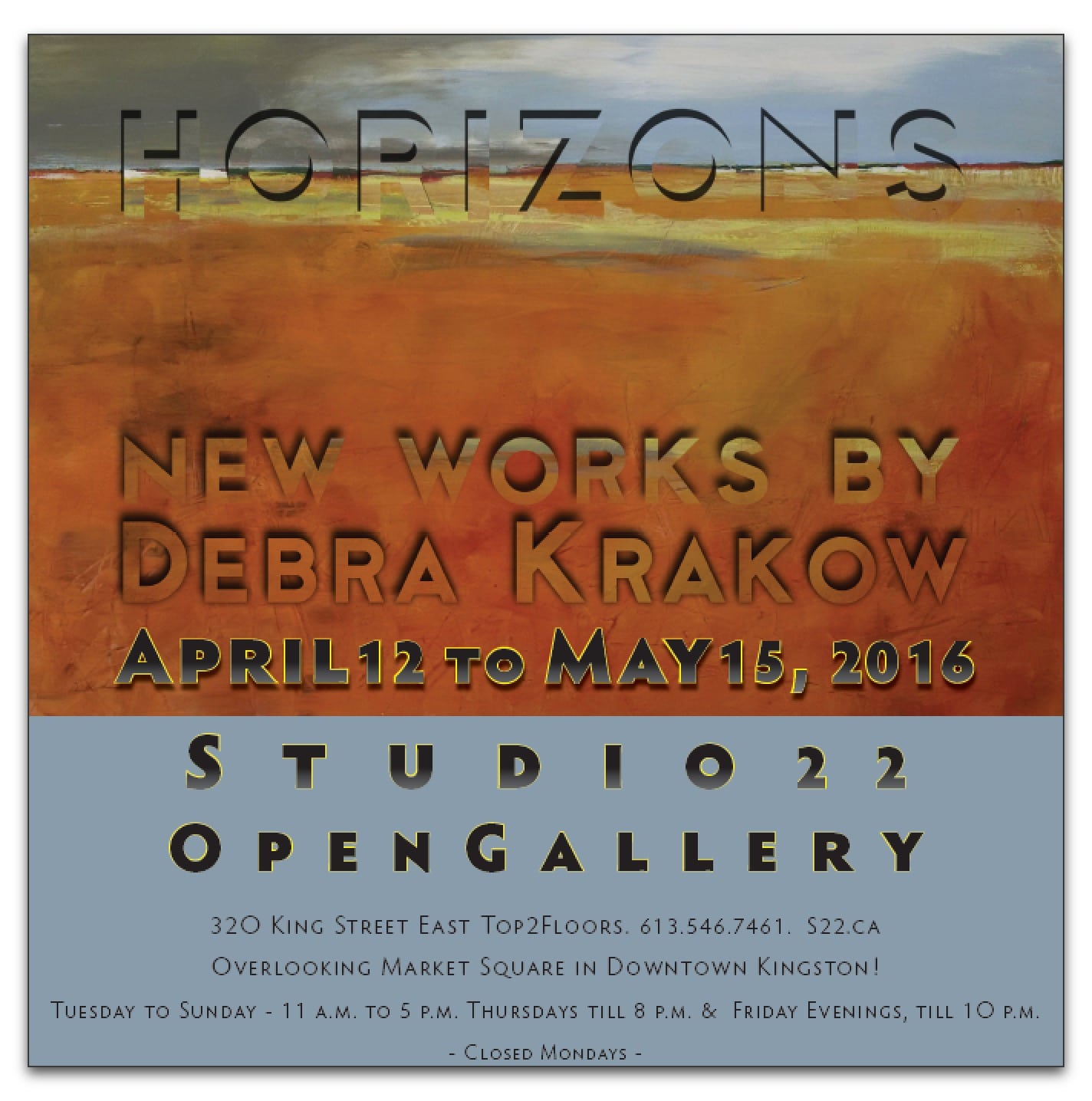 Wolfe Island architect creates large abstract landscapes that turn interior walls into horizons.  
Studio 22 is very pleased to announce the launch of our 2016 solo season with a new body of large works from local artist Debra Krakow opening Tuesday, April 12, 2016.
All it takes is the subtlest hint of a horizon line for our minds to see landscape in an abstract painting. We're drawn to wide-open spaces and expansive views, and landscape paintings connect us to these places. The concept of abstract landscape allows me incredible artistic freedom and yet grounds the work in visual experience.  – Debra Krakow
Horizons is Krakow's third show with Studio22.  Evolving Surfaces (Spring 2014), acrylic and mixed media, explored abstracts from a textural perspective and Crows (Summer 2015), acrylics on paper, was created watching crows from a mountaintop in the south of India.
Debra Krakow is a Canadian artist and architect. Her luminous and evocative abstract paintings express her deeply felt connection to the natural world.
Debra was born a free spirit in 1965 and took the women's movement and the do-your-own-thing motto to heart. Torn between her two loves – art and physics — she decided to study architecture. She graduated from McGill University where she had the privilege of studying life drawing under educator and artist Gentile Tondino. Since then she has developed her artistic practice through courses in painting, printmaking, sculpture, fibre arts and ceramics. Recent workshops with artist Lila Lewis Irving have had a strong influence. She works out of her Wolfe Island studio, overlooking acres of fields and the St. Lawrence Seaway.
Debra has exhibited in her native city of Montreal as well as in Ottawa, Kingston, Halifax and New York State. Her works are fondly displayed in living rooms and offices throughout North America. www.debrakrakow.com
Horizons is on exhibit at Studio 22 from Tuesday, April 12 until Sunday May 15, 2016.
Gallery Hours:  Tuesday to Sunday – 11 to 5 pm & Thursday and Friday evenings to 8pm and 10pm