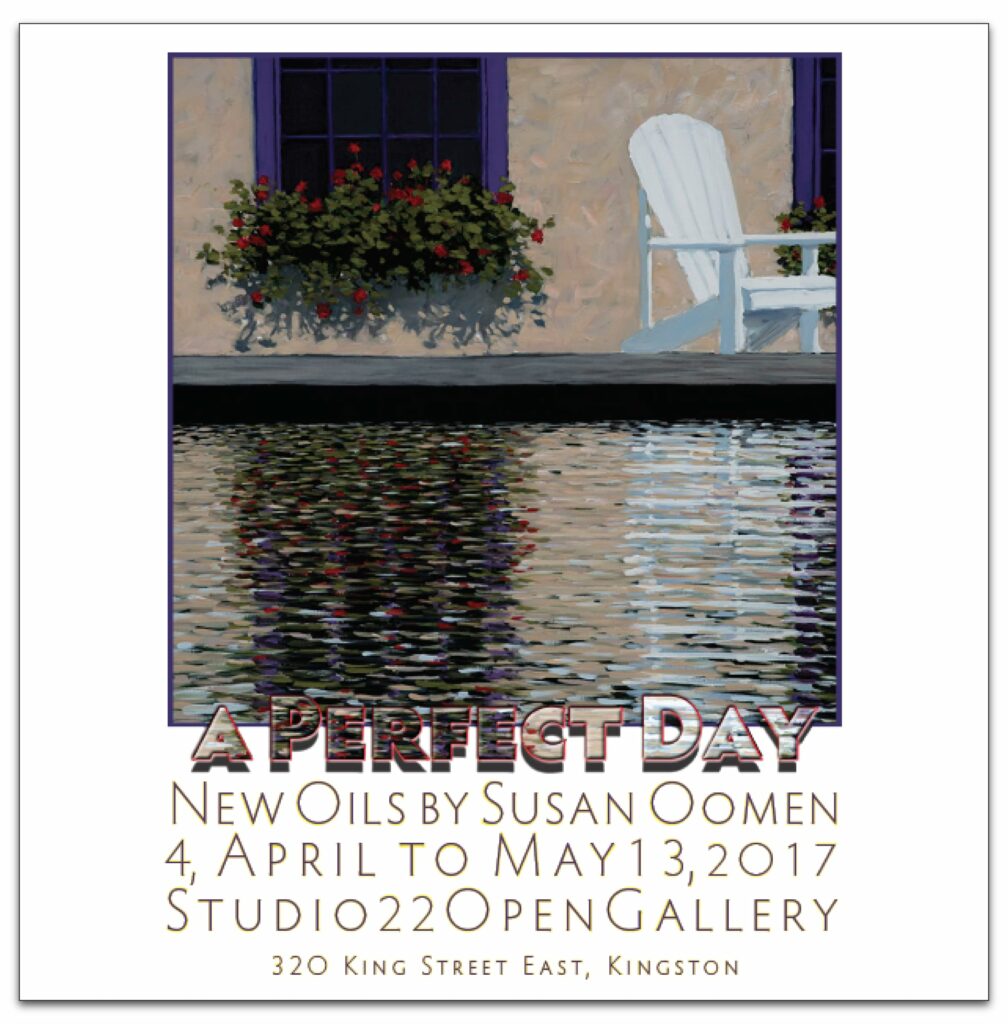 April 4 – May 13, 2017

Susan Oomen's works perfectly express mood; capturing stillness in action. Serene lake-scapes depict a life well lived, paddlers float upon light-dappled water, portraying the double meaning of reflection. Idyllic boathouses and iconic muskoka chairs invite the viewer to take pause. The works suggest moments of solitude as well as intimate pairings, illustrations of what it means to be close to nature and to one another. Each moment depicted invites the viewer to reminisce about their own beloved interactions with the natural world and the joy of living fully.
A Perfect Day is a reminder of the sanctuary of nature and the invaluable gift of tranquility. Featuring ethereal canvases of various shapes and sizes, Oomen's latest exhibit offers a portal to a meditative state of mind; connecting you to beauty and bringing a moment of contemplative bliss into your home, office, or cottage. As Oomen herself remarks, "It becomes a visual journey, as your eye travels, taking in water, then shoreline, horizon and sky. Perhaps for a few moments, through this journey, we have imagined ourselves there."
Having grown up in a large Dutch farming family in the Kingston, Ontario area, Oomen remains close to her roots. While she has made her home in Utopia, Ontario, her paintings are often inspired by the landscapes, lakes, and waterways of the Thousand Islands region, Algonquin Park, and the Muskokas.
A graduate of the Fine Arts Program at Queen's University, Kingston, Susan Oomen is represented by Studio 22 in Kingston, Ontario and Roberts Gallery in Toronto. Susan has shown in galleries throughout Canada for over 30 years and has just completed solo shows in 2016 and 2014 at Roberts Gallery, and at Studio 22 in 2015. She has received various awards and grants over the years and her work can be found in public and private collections throughout Canada and the United States. Her painting titled 'Annie's Wake' was featured in September 2016 on the cover of the American Psychologist.
Not currently available – If you are interested in this, please contact us.
Not currently available – If you are interested in this, please contact us.