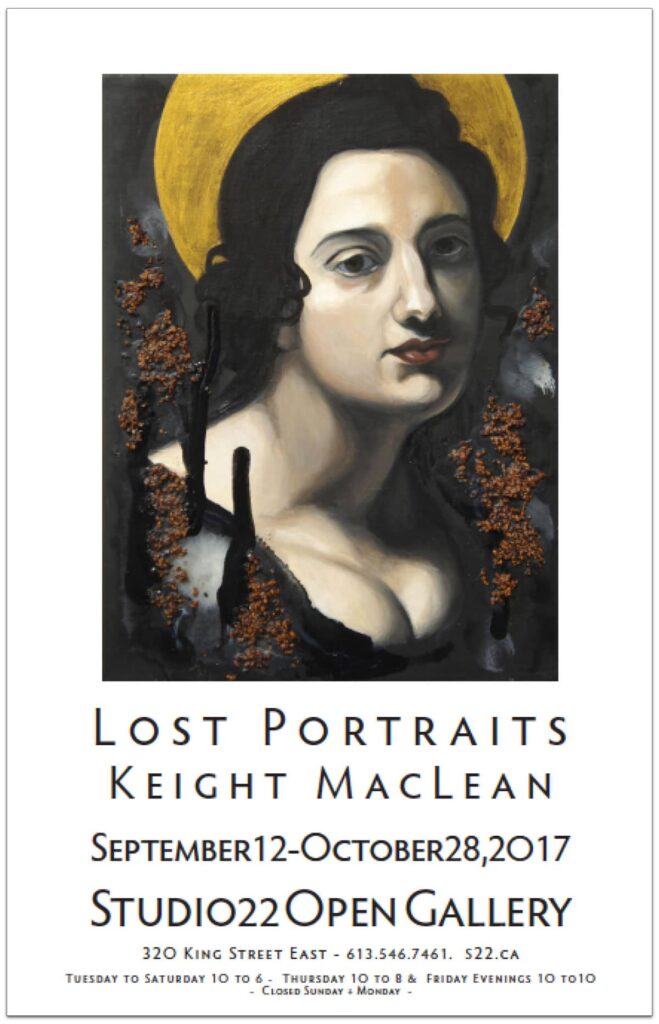 Keight MacLean would be the first to admit that there is something perplexing and paradoxical about great art. The challenge as an artist—especially one capable of approaching the latter—is to develop an aesthetic that both celebrates beauty and showcases their expertise, yet still stakes a claim on the radical inventiveness of artistic creation. That is, every artist must find her own unique voice.
For MacLean, finding her voice has coincided with giving voice to forgotten and historically marginalized women. LOST PORTRAITS, her latest body of work, features MacLean's traditionally inspired portraits, presented with a contemporary twist, such as fluorescent spray paint, re-harvested artists' mediums and destructive techniques. Driven to explore new materials and apply experimental methods, MacLean is a natural student and calculating risk-taker. Working on surfaces of various sizes affords MacLean the freedom to explore new territory and makes her work accessible to a range of investors.
MacLean's dedication to her practice is impressive for an emerging artist. She credits her experience under the tutelage of Karen Peperkorn of Kingston's Creative Arts FOCUS Program with helping to set her on her artistic path. A recent OCAD University graduate and an alumna of the school's revered Florence Program, located in Florence, Italy, MacLean takes a holistic approach to her practice. She continually seeks out opportunities to establish connections with fellow artists, to broaden her audience, and to cultivate new collectors. Now based in Toronto, she has participated in various art fairs, such as Toronto Outdoor and the Artist's Project, garnering an extensive following. Her paintings have been exhibited internationally and her work is in collections throughout Canada, the USA, Italy and the UK.
Studio 22 is thrilled to welcome Keight MacLean home and to present LOST PORTRAITS, her first major solo exhibition in Kingston.
LOST PORTRAITS will be on display at Studio 22, located at 320 King Street East, Kingston from September 12-October 28, 2017.