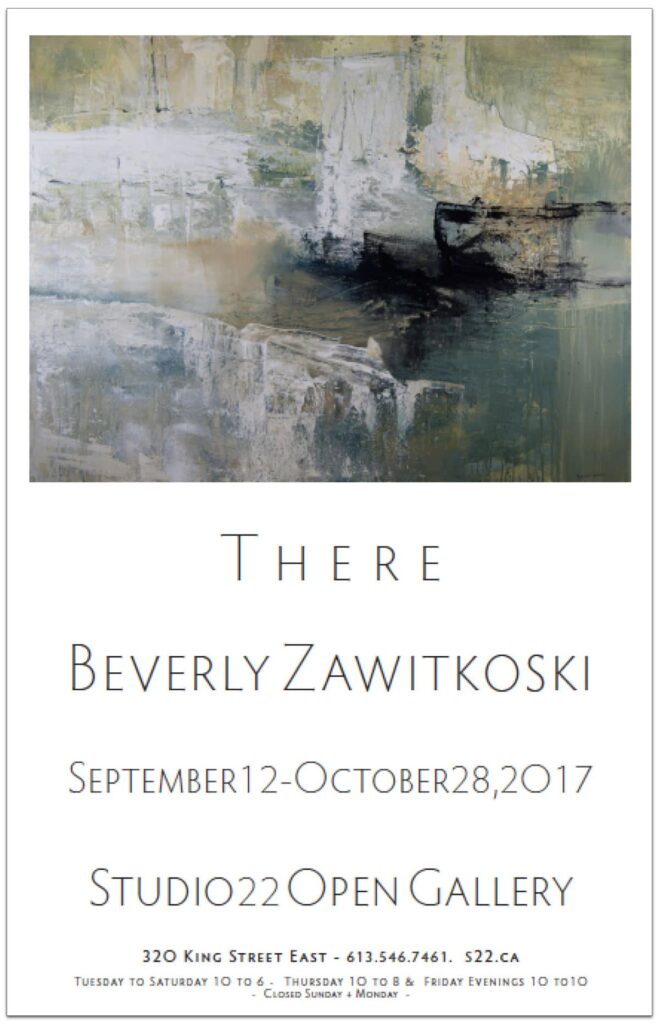 YES, YOU CAN GET 'THERE' FROM HERE! 
THERE, New Works by Beverly Zawitkoski will carry you away. The solo exhibition, on display at Studio 22 Open Gallery, highlights the creative practice of self-expression through paint.
Zawitoski takes her inspiration from landscapes, though her abstract canvases bring the viewer on an impassioned journey, which travels far beyond the physical realm. Through abstraction, Zawitkoski explains that her goal is "to create an aesthetic that facilitates the exploration of an unknown place that is at once emotionally familiar and visually suggested." 
The works are a culmination of years of refined technique. Her process reveals the possibilities of paint, which is layered then deconstructed in a series of steps throughout each work: marks, scratches, lineation, additional layers, densely textured areas and blending all build up the surface, sometimes evoking energetic purpose and at other times transcendent tranquility. She searches continually for unfettered, expressive ways of breathing life into paint's viscosity and colour, requiring multiple trials before achieving the final composition. Every painting gives her insight into the next work, in turn pulling her forward towards a new series. Zawitkoski credits the constant rhythm of self-questioning with the production of these completed paintings.
The resulting works are at once a profound exclamation of intent, focusing our attention on the very nature of existence and the complex and elegant process of creation itself, and a subtle reminder that through exploration, you can arrive somewhere both unexpected and exquisite.
Savour the seduction of subtle colours and gestures in paint; embark on a voyage of personal discovery. Yes, you can get ' THERE' from here!
Beverly Zawitkoski is a Canadian artist living and working in her native Montreal.  Zawitkoski has exhibited in many solo and group shows in Canada and internationally in the USA, across the UK, and in The Czech Republic's capital of Prague. THERE will be on display at Studio 22, located at 320 King Street East, Kingston from September 12-October 28, 2017.