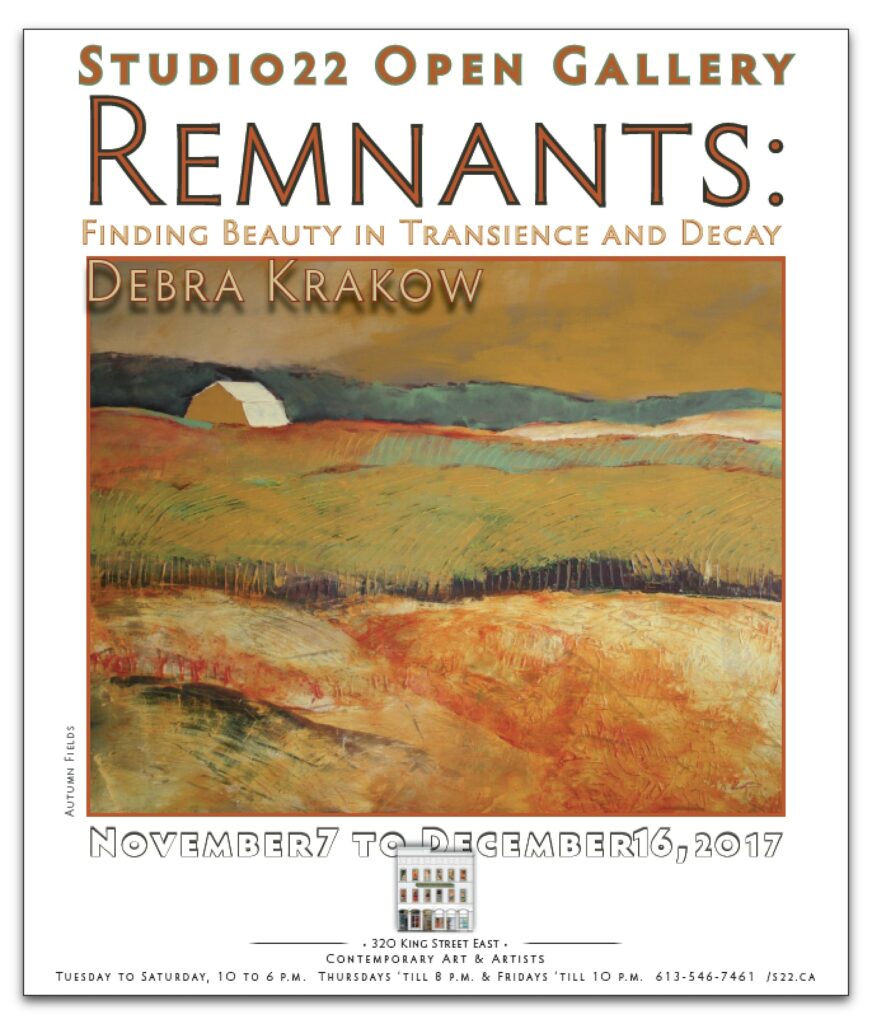 November 7 to December 16, 2017
Remnants: finding beauty in transience and decay
the latest body of work by local artist Debra Krakow
Working from her picturesque Wolfe Island home studio, artist and architect Debra Krakow watches the seasons unfold.  Lush greens give way to the riotous ochres and siennas of autumn, before succumbing to the hush of winter's mantle of white.  These weathered landscapes, the evidence of time's passage, inspire Krakow's layered, and often expansive and abstracted, canvases.  
Natural landscapes, sometimes presented as fragments, invite the viewer to look beneath the façade of mere seeing.  They reveal the dignity and subtle structure of memory and perspective.  What lies beyond that which we immediately encounter are the forms of change themselves.  Krakow's work reminds us that our subjective viewpoints necessarily reflect experience filtered through time and that which we most accurately perceive often demands focused attention and thoughtful exploration.
"I am drawn to these sparse, quiet landscapes with their vestiges of abundance: cornstalks in frozen fields, dead trees in a flooded pond, detritus on a forest floor.  The signs of aging can be equally evocative and beautiful on human-made surfaces — peeling paint on weathered barn board, a rusty metal door, cracked plaster in an abandoned building.  My working method is a natural fit for exploring the way structures and landscapes morph over time.  I work in layers, selectively revealing or obscuring parts of the layers below to create an evocative surface. Just as a landscape or weathered surface bears hints of its evolution, my painted surfaces reveal a complex history of underlying texture and colour."—Debra Krakow
Debra Krakow was born into a creative family in 1965 and has been a free spirit ever since. Torn between her two loves – art and physics –she decided to study architecture.  She graduated from McGill University where she had the privilege of studying life drawing under artist Gentile Tondino.  She developed her artistic practice through courses in painting, printmaking, sculpture, fibre arts and ceramics.
Her work has been exhibited in her native city of Montreal as well as Toronto, Ottawa, Kingston, Halifax and New York State.  Her works are fondly displayed in living rooms and offices throughout North America. 
Remnants: finding beauty in transience and decay is on exhibit at Studio 22 from Tuesday, November 7 until Saturday December 16, 2017.