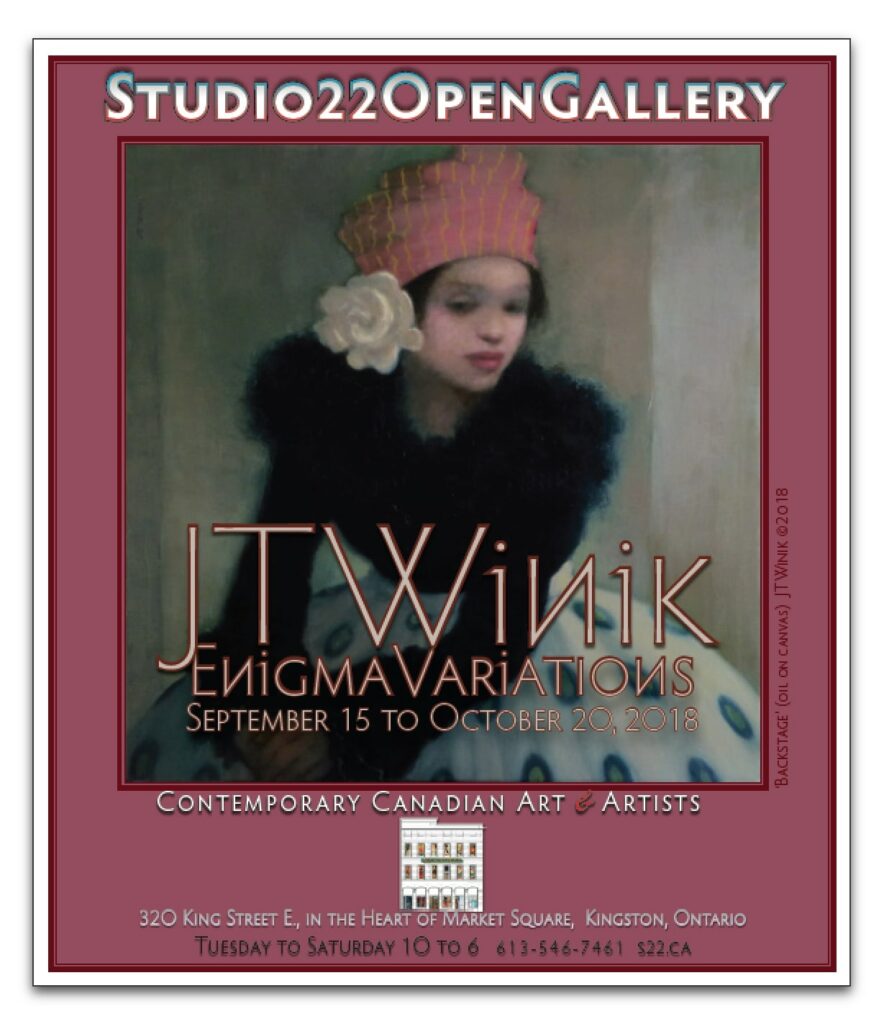 Studio22 Open Gallery proudly presents Enigma Variations, a new solo exhibit by internationally renowned artist, J.T. Winik. The title, Enigma Variations, refers both to the enigmatic narratives of these new works as well as to the process of creating them.  Featuring spectacular new large works on canvas (30×40) as well as a collection of smaller pieces, previews and pre-sales will take place September 11 – September 14, with the show officially open to the general public September 15 – October 20. On September 27th at 5 pm, J.T. Winik will give an artist talk at the gallery focusing on her inspiration for this latest exhibit. 
Thematically, Winik's new paintings are composed of two main series; Girl(s) in a Corner and Female Circus Performers. The first series depicts young women in party dresses, sitting alone in corners, confronting the viewer face on. The simplicity of the theme allows the artist's process to focus solely on interacting with mark-making until a figure forms, each with its own personality and attitude. Sometimes these girls appear a bit broken, other times they challenge the viewer, but mostly there's a bit of both. It is that merging of conflicting senses that keeps the audience intrigued – with strength and vulnerability co-habiting as they so often do in real life. 
The second series depicting female circus performers was inspired by the family history of the artist's dear friend, who recently discovered he'd descended from generations of famous British clowns and Vaudeville actors. One of these, a great aunt, named Lulu Adams, was known to be the first female clown in Britain. And so, with this revelation, the Lulu Series unfolded. 
"As circuses and vaudeville acts comprised a major entertainment industry of its time, I wondered had it not its share of "me too" girls- and although I could find no tales of abuse, it's as likely then as now that disadvantaged young women were easy targets, whatever their field of employment. What was apparent, however, was that within the circus and vaudeville industries there was a strong sense of community which offered a comparatively lucrative living to those women who did work regularly. Some, with a measure of fame, came to own the rights to their acts and developed as entrepreneurs, employing others. As always, there are surely as many facets to a story as there are those who tell it, but great Aunt Lulu was one who seemed more than satisfied with her lot in life."– J.T. Winik 
J.T. Winik is a Canadian visual artist whose figurative paintings explore themes of isolation, introspection and the fusion of contrary states of being. Her work has been exhibited in group and solo exhibitions in Canada, the Netherlands as well as Mexico and she is currently represented in galleries in Kingston, Toronto, Montreal and Amsterdam. Her paintings have been featured in national magazines, books and book covers in Canada, Holland, Turkey and England. Based in Kingston, Ontario, she has also spent extensive periods working at studios in Spain and Holland.