An Ottawa based artist, Diane Laundy's photographic work is both strongly graphic and deceptively simple.  Exploring shape, colour and rhythmic patterns, her work focuses on both natural and urban subjects, often elevating details overlooked by others.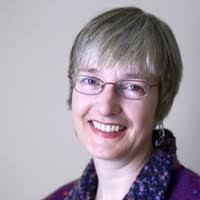 Artist Statement:
The influence of textiles strongly informs the way I photograph – looking for patterns, texture and structure in both the urban and natural worlds – and informs how I create and present my images. I create composite images that juxtapose and overlay colours, patterns and textures found in the original photographs. The resulting photographic "textiles" are a highly interpretative re-imagining of the original subject matter.
I have also experimented with unconventional forms to the final image. My exhibition 'Fabrications' was hung from rods and ribbons, in the manner of a quilt. My recent experiments have included the physical manipulation of the photographic image through folding, crumpling or stitching the paper.