If we have learned anything this past year it is that we are wired for human connection and that our relationships with loved ones are priceless.

Below are meaningful, memorable, and touching stories, written by some of our artists about how special it can be to both give and receive the 'gift' of original art.

We hope these stories provide you inspiration and that you will please consider supporting local and supporting the artists and the gallery when gifting this holiday season or any time of the year.
'My Gift to a Baseball Hero' by Norman Takeuchi
To recount this story, some background is necessary. Between 1914 and 1942, there existed in Vancouver a legendary Japanese-Canadian baseball team named Asahi. They played up and down the west coast winning numerous tournaments and championships. The team was disbanded when its members were dispersed across Canada due to the Japanese-Canadian internment during World War II. The team was inducted into the Canadian Baseball Hall of Fame in 2003 and the BC Sports Hall of Fame in 2005. The team was designated an Event of National Historic Significance in 2008.
Only one member of the team is alive today, Kaye Kaminishi, a much revered figure in the Japanese Canadian community. In 2007, I received an interesting request from Kaye's daughter. In an exhibition she had seen a drawing of a baseball glove which I had produced, and she wanted to purchase it as a gift for Kaye. As an Asahi fan and having played the game myself, I asked if I could have the honour of giving the drawing to him as a gift and she agreed.
Not too long after sending the drawing to Kaye, I received in the mail a small box. Inside were two items: a baseball autographed by Kaye and a photo of him holding the drawing. I was thrilled with these unexpected gifts.Both are now proudly displayed in my studio to be treasured forever.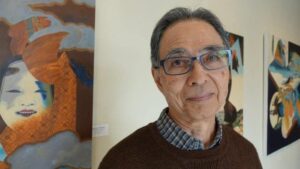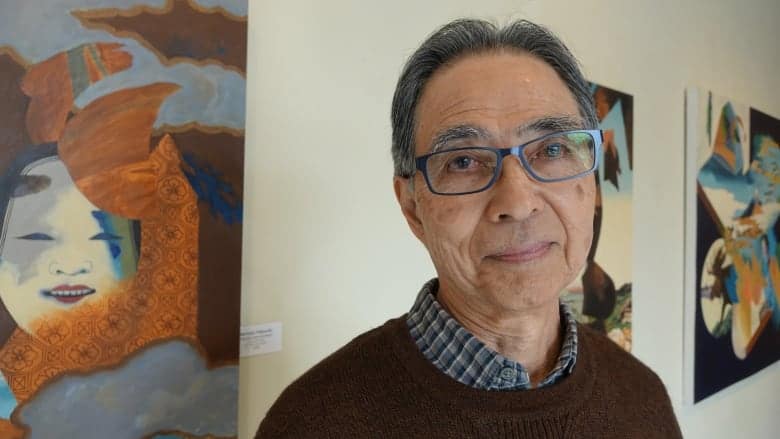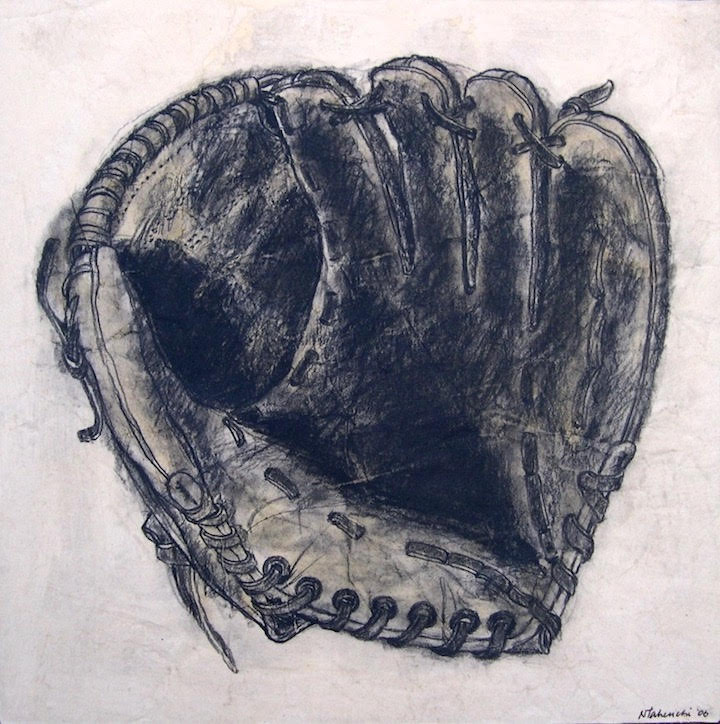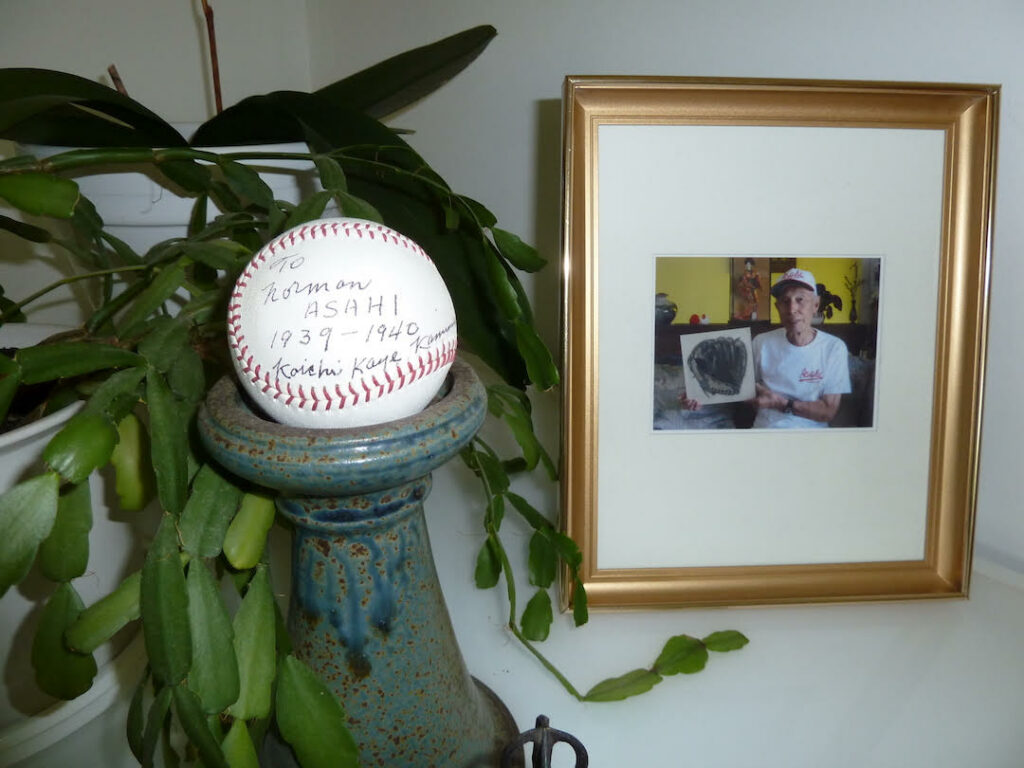 'The Winter Cottage' by Rob Niezen
My first home in Canada was a cottage on a lake in the Kawarthas that we rented from November to May. We spent a memorable Canadian winter there, with lots of snow. A few years later, I made a small oil painting of the cottage, and used it for a Christmas card. All the time we have kept in touch with our landlady, we became friends, and that next spring I gave her the original painting. 


Recently, she told me that she really treasures it, and especially in wintertime when she can't be at the cottage—the cottage is with her at her home.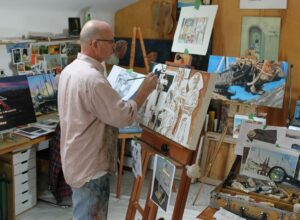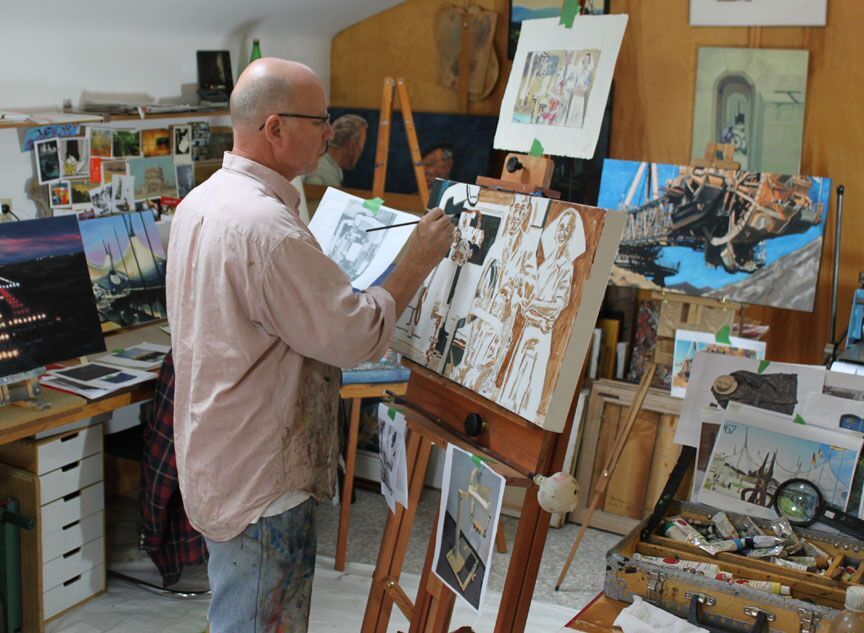 'Act of Kindness' by Evelyn Rapin
Over the years, I have given my own artwork to various friends and relatives as gifts especially if I know they like a certain piece, but I have also received art from close friends and fellow artists. These gifts are precious to me and I consider myself fortunate to have such generous people in my life. One gift in particular remains a favourite of mine. My friend knew I loved the drawings of American/Canadian artist, Frank Nulf and just days before Christmas I was the lucky recipient of one.

As I write these lines, I only have to lift my head to gaze at this drawing with pure pleasure, appreciation and admiration without having to impose the critical eye with which I view my own artwork: I love it! Hanging in a prime location of my home, I revel in this fabulous work of art daily as I am reminded of my friend's act of kindness.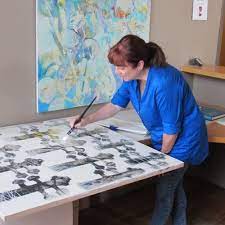 'The Gift that Gave Twice' by Teri Wing
Many years ago I was asked if I would donate some art to a charity golf tournament. I didn't have anything available so I made up a Gift Certificate for a free portrait. I didn't know how much it made for the charity after bidding but the man who purchased it said he was hoping to win the bid because he'd always wanted a painting of the barn on his family farm where he grew up and had so many wonderful memories. My imagination took over and I could see him learning about farming from his father, barn dances, maybe even his first kiss. So, a portrait of a barn..sure why not. I worked from an old photo and had it finished for him quite quickly.
I knew this man had been battling cancer for a very long time and was recently going through some very difficult treatments. I was told he enjoyed it in his room at home until he died later that year. It was nice that this gift was able to give twice…to help a great charity, and then to make someone something very special and personal, that would be handed down to his kids.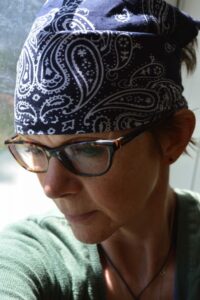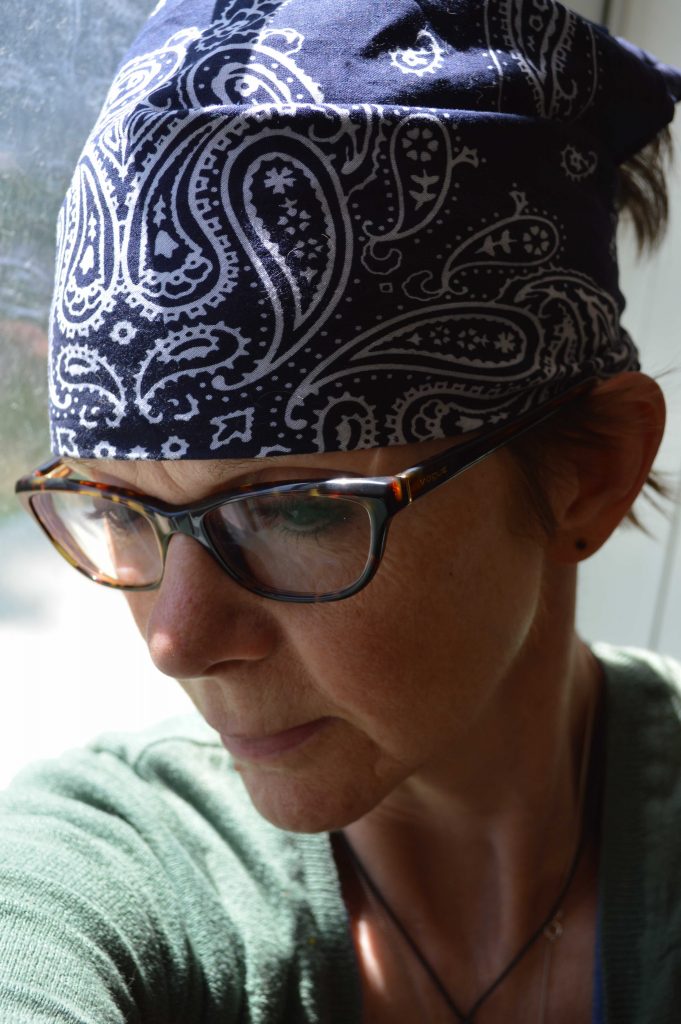 'For My Son' by Frank Danielson
Giving the gift of original art, particularly when you have created that gift can be an entirely rewarding experience. In 2011 I undertook to produce a painting of my son who at the time was only about nine years old. Portraiture is something that I have rarely done and I found the process to be quite challenging. Eventually I captured his appearance to my satisfaction and in the year that followed he received the painting as a gift.  

I believe that the ability to give a gift that is so personal in nature is just as pleasant for the person giving it as it is for the person receiving it. The gift of art is one that lasts, potentially for generations and it presents an opportunity to communicate feelings that otherwise cannot be expressed in another equivalent manner.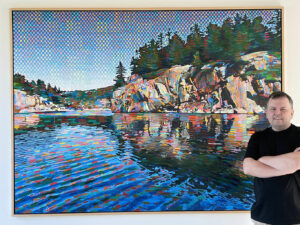 'Mixed Beasts Down Under' by Wallace Edwards
As an artist and author/illustrator of children's books, I occasionally have the good fortune to be able to give my work away when needed. I have had many opportunities to do so, but a recent event during lockdown stands out.
Last year I received an email from the mother of a six-year-old boy in Australia. The message arrived on my birthday, and ended up being the best birthday present a children's book author/illustrator could hope for. Her message is shared below, with her permission.
Dear Mr. Edwards,
I hope this message finds you well. My 6 year old son adores your work. He is autistic, and finds your punning and word play completely captivating. His first day of school here in January was quite traumatic, but a copy of your book "Mixed Beasts," retrieved by an intuitive teacher from the school library, convinced him to remain in the classroom that day. The book lives in a special box near his work table, and the promise of a photocopy of a page can be enough to get him through the school gate on a reluctant morning. I have spent many hours tracing stencils of the creatures, which are then cut out and played with by him, alongside his more conventional plastic animals.
During our hard lockdown here in [Australia], having access to several of your books online via Epic Online Library has saved all of our sanity on many occasions.
Suffice it to say, we're fans.
He has requested copies of all your books from Santa for Christmas. I've managed to purchase "Mixed Beasts" and "Once Upon a Line"… I am particularly looking for "The Extinct Files". Would you know of any way I could get a hold of anyone to ship to me in Australia?

Thank you for your wonderful work.

Kindest regards…
Needless to say, I was thrilled, and eager to assist. Having several books on hand, I prepared a gift package of books for my new fan from 'Down Under.' As an added thought, I offered to include some mixed beasts of his own if he could suggest what animals to combine. Thus began a delightful exchange.
Dear Mr. Edwards,
Thank you so much. I can't tell you how excited Danny [pseudonym] is at the prospect of 'designing' his own mixed beasts for you. He spent hours last night contemplating the possibilities, and had to 'sleep on it' before sending you his final suggestions this morning.
I think this is the most wonderful thing that has ever happened to him.
The combinations that Danny came up with were delightful. A humpback whale combined with a loaf of bread – a "humpbreadwhale"! A "tawnybarkfrogmouth" (combining the Australian owl known as a tawny frogmouth and a frog)! A "hippopotamice," a "tree kangaroo," a "golden camel" (part golden retriever, part camel), and a "horse chestnut" (part horse, part chestnut)! Let me tell you, those creatures were a lot of fun to draw!
Packaged up, the books and illustrations began their long journey across the ocean to Danny, half a world away. In response to my message in early October that the package had been shipped, Danny's mother wrote "Thanks for letting me know – there is a lot of joy to be had in anticipation!" By mid-November, the package had not arrived. The tracking number showed its location in the middle of the Atlantic Ocean. I had to let Danny's mother know. Undaunted, she replied:
That's fine! … Having the tracking number will be fun for Danny – following the progress of the package.
I found a copy of Kenyon Cox's "Mixed Beasts" in an antiquarian bookstore in the US online. So that will be part of his Christmas gift as well. He was very impressed to see that you too had been inspired by an artist.
Thank you for everything you've done to provide Danny with such a joyful focus at this difficult time.
The end of November came and went, and still no package. With Christmas just around the corner, it seemed increasingly unlikely that Danny would have a parcel from Canada under the tree on Christmas morning. Dismal. Then, on December 15th, a joyous email – the package had arrived! Danny's mother expressed her thanks, and Danny's, and thanks from "my husband Don [pseudonym], who has shed a few tears this morning." (When my wife and I read that, we shed a few tears ourselves.)
But that isn't the end of the story. Some time later, to my delight, a package arrived from Danny. In it was a collection of his wonderful drawings, so creative and utterly charming, along with a pencil case and a Tasmanian Devil puzzle! Now, every time I use that beautiful pencil case, I think of the young artist who gave it to me and feel grateful to have been given the opportunity for such a rich experience.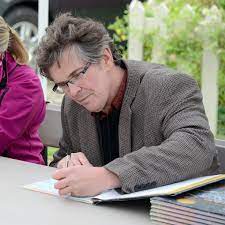 'Forever Grateful' by JT Winik
Over the years of my career, gifting a work of art has often been based on "what I happen to have around."  Eagle-eyed, I scan my walls, poke my head into closets (both real and virtual) and thumb through boxes here and there, searching for what seems to be just the right piece for the occasion, for the person, for the moment. Other times, the decision is impulsive:  a long, lost friend visits out of the blue and after dinner, wandering around, glass in hand, he or she hooks eyes onto something.  Lifting that something from the wall, I blow off the dust of all the years of our mutual past and—not needing to be gift-wrapped—it's theirs.
It is rare that I create works specifically for someone but that happens too. And there is almost nothing more rewarding than to bring an idea to life in honour of a friend. Those are the gifts not found in closets nor on my walls nor in my mind, their roots having sprung from someone else. These are the connections, perhaps less rare than I think, which have helped me to rise far beyond myself … and for that I am forever grateful.