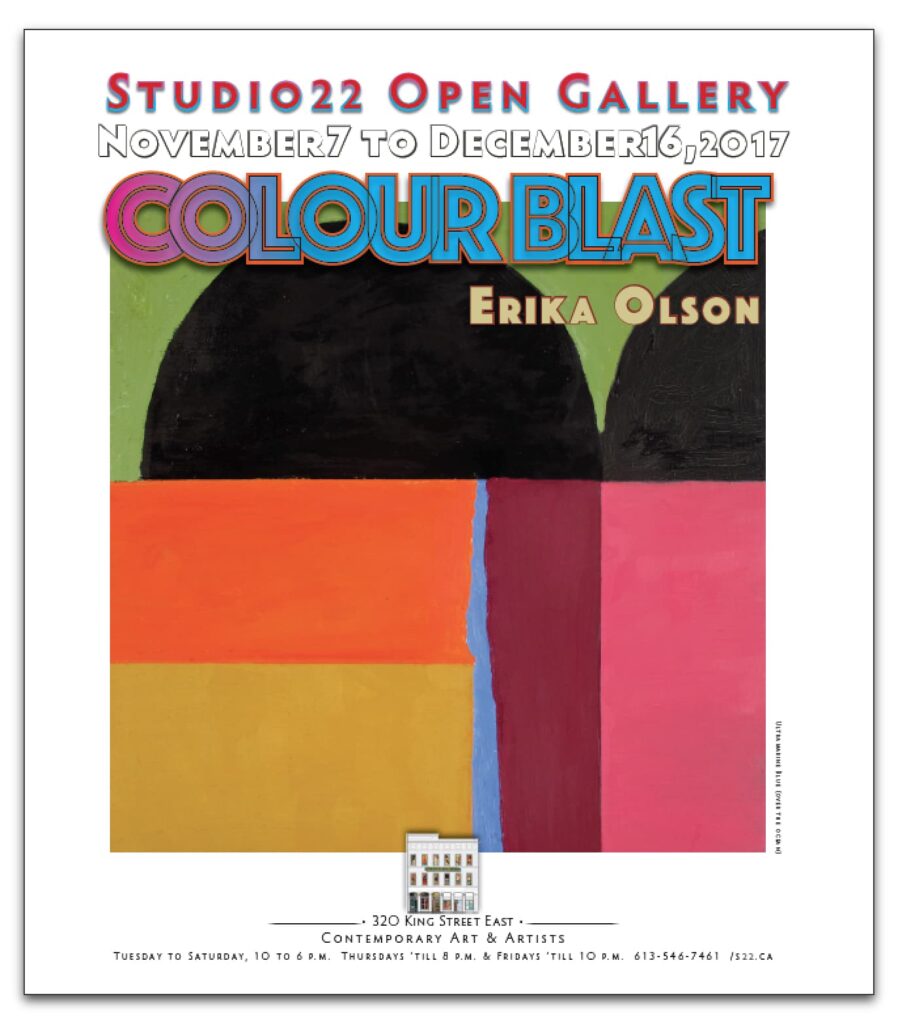 November 7 to December 16, 2017
COLOUR BLAST
a collection of new abstract work by Kingston artist Erika Olson
Erika Olson's new solo exhibition features a return to the large colourful abstracts which marked the early days of her painting career. After more than a dozen years urgently examining the everyday objects of domesticity and producing the sumptuous still lives for which she has become known, Olson's work has come full circle.
Saturated colour schemes remain a constant for Olson, as does her intuitive sense of balancing shapes. By juxtaposing smooth and jagged lines, her new works feel at once edgy and organic. Here, however, her domestic colour palette gives way to the exotic; Indian Miniatures providing a current muse.
Olson's re-exploration of abstraction is a gift to the viewer; it's as if she's rediscovered some of her most comfortable and beloved old clothes, and by restructuring them, fashioned a tapestry of form and tone.
These large vibrant works are indeed quintessentially modernist in their inspiration and yet still feel current and original. Don't miss your chance to see the exciting body of work that is COLOUR BLAST.
Erika Olson studied fine art at Queens University and earned her BFA from Concordia University. She has had numerous exhibitions and group shows in Kingston, Toronto, Calgary and the United Kingdom.
COLOUR BLAST; new abstracts by Erika Olson is on exhibit at Studio 22 from Tuesday, November 7 until Saturday December 16, 2017.
Not currently available – If you are interested in this, please contact us.