A Kingston native, Bernard Clark has been exhibiting his fine art images for over 25 years.  His photographic works often revolve around the theme of icons; whether portraiture or cityscsape, his subjects are elevated to a status evoking veneration.
He bought his first 35mm camera in Grade 10 and within a year was processing and printing his own black & white photographs, ultimately graduating in Fine Arts from St. Lawrence College in 1986, with his major study being photography. He has been heavily influenced by the master portrait photographers Richard Avedon, Irving Penn and Annie Leibovitz.
In 2012 Bernard had a 4 month solo exhibition at the Agnes Etherington Art Centre 'Tattoo Portraits.' The exhibition was accompanied by a significant catalogue that is available at the AEAC and the Museum of Modern Art.
Several of his most recent series are available at Studio 22, including "Notorious," which features famous portraits and mugshots meticulously reconstructed through a pixilated grid of individually photographed scrabble tiles and typewriter keys.  Likewise a selection of his ongoing pop art series of vintage signs and cameras.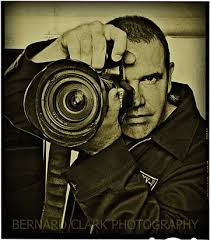 Don't miss the Spring downtown art gallery tour. 7 to 10 pm Friday May 24th.
New works from Bernard Clark's ongoing Notorious Series   Bernard Clark likes working in series.  Known for his Tattoo Portrait series, he has also explored numerous other sets of work.  At Studio22, we have seen Musician and Artist Portraits, Hotel signs, Pop Art signs and Camera series.  His newest effort, Celebrity Mugshots, is part of Clark's ongoing Notorious Series which began with tiny mugshots of gangsters he had been contemplating using for some time.  Working with copywrite-free images - such as mugshots, driver's licenses and military ID's, Clark uses his own photographs of keyboard keys, scrabble tiles, dice and other such small...
The working title for my new series is GRIDWORK. It revolves around the appropriation of public portraits of recognizable individuals.
A gift is many things.  It is not always of a physical nature, and a physical offering is not always the real gift.
We like to play our music loud during Art After Dark.  It's loose.  It's fun.  Visitors should expect to enjoy groovin' to the tunes while taking in our Contemporary Canadian Art & Artists. FEATURED ART Haunted Graffiti - Paintings by Lee Stewart SPRING Artist Portfolio Series Barry Blunden • Bernard Clark • Rebecca Cowan • Stefan Duerst • IMAMess… • Debra Krakow • Keight Maclean • Teresa Mrozicka • Neli Nenkova • Rob Niezen • Erika Olson • Victor Oriecuia Print Inuit's Cape Dorset Collection - A selection of 9 small prints for spring
PHOTOGRAPHIC ARTIST BERNARD CLARK FACES OFF AGAINST SCULPTOR RICK LAPOINTE Photo + Steel Bernard Clark Music Portfolio / Rick Lapointe Steel Sculpture April 14 to May 24, 2015 Studio22 Open Gallery In 2013, Bernard Clark introduced a new series of portrait work (after his remarkable "Tatto Portraits") that focused on Kingston Artists.  The subjects were visual creators. Now, Clark has expanded that series beyond the visual and into the audio to include a Music Portfolio. Among those stepping up to be captured by Bernard's lens are Emily Fennel and Dave Bidini. One of the creators photographed in the visual...