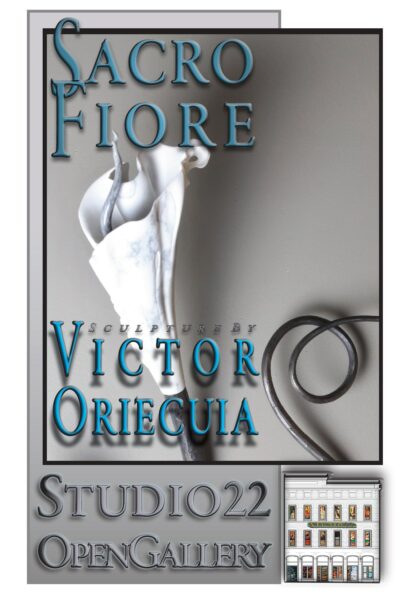 Sacro Fiore (Sacred Flower) 
A Delicate and Contemporary Take On a Venerable and Age- old Art Form
Victor Oriecuia is an accomplished Canadian sculptor. His latest body of work – a collection now 3 years in the making- uses flowers as the central subject. It's a perfect embodiment of the contradictions of stonework; the delicate form carved out of solid material; movement depicted in an immovable object.

He calls the collection Sacro Fiore, meaning simply: Sacred Flower, in Italian. Sacro Fiore, is a 15 piece collection composed of 11 new works made from 13 different marbles and 5 different metals. Oriecuia's contemporary take on an age-old art form is what sets this collection apart.
Virtual Tour of the Exhibit
Artist Statement
"My concepts take months or years to bring to fruition, without shortcuts or compromises. I chose flowers as a general theme for my latest collection of work due to their contrasting nature with stone. The fleeting nature of flowers is now replaced with immortality and permanence in stone. I am also drawn to the universal communication and metaphors that flowers provide. My work explores universal communication and metaphors of emotional seduction such as love, power, lust, and recognition. Unlike most flowers, my sculptures invite the observer to touch their delicate surfaces, and reinforce an emotional connection through the remaining senses. 

Floral inspirations also allow me to explore and exhibit the limitations and perceptions of marble sculpture. I strive to achieve warmth, vibrancy, and vulnerability- characteristics not commonly associated with this dense and unforgiving material. With these sculptures, I created hallowed unions between stone, metal, and wood. These sacred elements, combined and joined in various ways, lure the viewer into the center of each sculpture, where true beauty awaits."  
Victor Oriecuia
Victor Oriecuia, a Kingston-based stone sculptor with 20 years experience, is passionate about pursuing and preserving old-world sculpting traditions. Victor's hand carved sculptures push the perceptions and limitations of marble, onyx, and other hard stones. He is drawn to the intimate nature and devotion required to render sculptures, and the unlimited potential and beauty of natural stone. Victor's exquisite sculptures engage viewers with an artform that has remained virtually unchanged throughout human history.